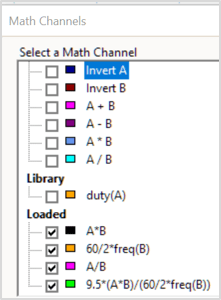 Analysing a Starter Motor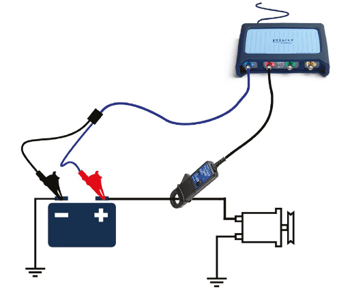 A starter motor can be tested by measuring the voltage drop across the battery or by measuring the current being consumed by the motor. Much more information is available: Power; Impedance; Speed; and Torque, and only two channels are necessary for all of the tests.
All you need is your PicoScope, a premium test lead with two dolphin clips or battery clamps and a 2000 A Current Clamp.
Voltage: Channel A (Blue) Measures the battery voltage in Volts
Current: Channel B (Red) Measures the current in Amps
Impedance: (Pink) A simple Ohms Law calculation A / B in Ohms
Power: (Black) Another simple calculation A * B in kilo watts
RPM: (Orange) Complex formula using the Frequency function
Torque: (Light Green) More complex formula in newton metres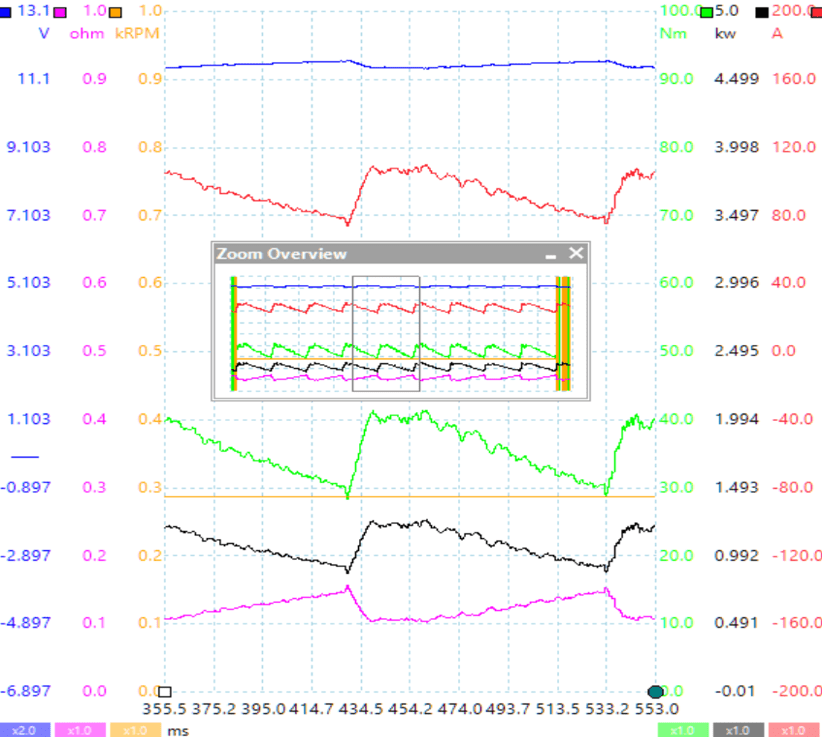 Understanding the Starter Motor Results
These waveforms consist of the battery voltage (blue) and the starter motor current (red) on a cranking, engine during a relative compression test. It has sufficient samples, a complete screen/buffer of data with a number of compression events and with no over-ranging. It has a 1 kHz lowpass filter applied to Channel A and B in order to improve the results displayed by the math channels.
Impedance or Apparent Resistance (pink)
Strictly speaking, Impedance is the resistance to flow of AC current and is caused by Back EMF. Although the Motor is DC (it creates an alternating field internally), it acts as a generator under light mechanical loads which opposes the incoming current. It therefore follows that its apparent resistance increases. Remeber that the actual (DC) resistance of the conductors doesn't change and is included in the calculated impedance.
Starting with the math channel A/B (voltage divided by current), we can display the circuit impedance during cranking. Note how the impedance decreases with the increase in current flow and increase in power consumed (as the motor converts the electrical energy into mechanical energy) during each compression event.
Power (black)
Now, if we multiply Channel A with Channel B (voltage*current) we get Watts (power) where the peak electrical power occurs at peak compression, measuring approximately 1.28 kW.
Frequency in RPM
Knowing the number of cylinders for this engine, four, we can determine the frequency of 2 x peak compression events based on peak current. These are evident between the time rulers.
A four stroke, 4-cylinder engine will produce two compression events per engine revolution. If we know the frequency of these events, we multiply by 60 to obtain and graph RPM (cranking speed as indicated in the Frequency/RPM legend).
The formula for RPM is, in this scenario, 60/2*freq(B). Notice the excellent and stable cranking speed (yellow) of approximately 280 RPM across the whole capture.
Torque (green)
Finally, we can also obtain torque. Given that we know power and RPM, add in a constant of 9.5 (for Nm) and this is the formula: 9.5*(A*B)/(60/2*freq(B)).
Summary
The waveform in figure X shows how peak torque occurs at peak compression, using Channel B – current as our reference.
We originally started with a simple capture with only voltage and current but with the addition of some maths, now we also have apparent resistance, power, speed and torque.
The PicoScope file below contains all the waveforms and math channels used in this session. Remember to activate the lowpass filter for Channels A and B.
Download
Toyota Auris 2007 petrol.psdata
. You can open it using
PicoScope 6 Software
, even if you don't own a PicoScope yet.
Derived from Steve Smith's excellent series on the Maths Channel Maths is Cool on the Pico Auto website.