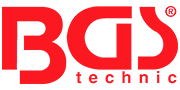 BGS technic and Kraftmann Automotive and Hand Tools from Germany
Garage Lube is proud to announce that we have been appointed as distributors for BGS technic and Kraftmann tools. We are currently updating up our website to support on-line ordering of this huge product range (more than 6,500 items). Please download the catalogues and you can contact us for availability and pricing.
BGS technic KG is a traditional, family-owned, owner-managed, German company which has been offering a constantly growing selection of hand and special automotive tools for over 45 years. BGS technic offers a high quality, professional, yet affordable range and the Kraftmann range is a less expensive choice for DIY applications. The products are manufactured for BGS according to their specifications in a number of countries in the Far East.
Download the Catalogues