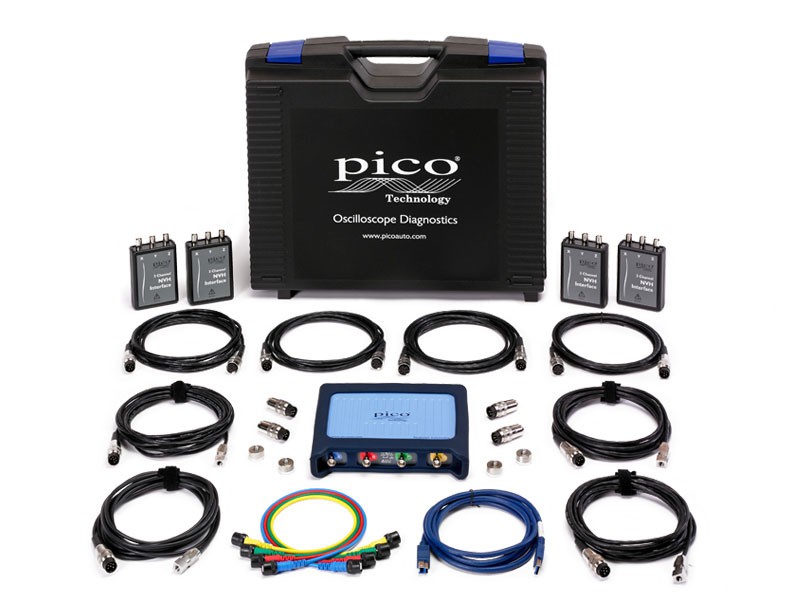 NVH Essentials Advanced Kit
Noise, Vibration & Harshness (NVH) Kits
Customer complaints about noises and vibrations are subjective and present a huge challenge. Pico's range of Noise Vibration and Harshness (NVH) Kits provide the answer in that they offer an objective diagnostic record and analysis of vibrations and noises.
Please click here for our VAS NVH Kit.
Cabin vibrations at speed
Engine vibrations throughout the entire RPM range
Clutch judder or vibration
Transmission and bearing whine
Auxiliary drive noise
Brake judder
Steering vibrations
Once you have an NVH system, you will be able to demonstrate the problem to your customers as well as the quantify the effectiveness of the repair, objectively. See our new NVH Training Course - now available in South Africa.
Example – Broken Coil Spring
The example image below shows the Pico Diagnostics screen recording of a broken suspension coil spring in a Volkswagen Golf. (T1 means Tyre, first order vibrations, i.e. once per revolution).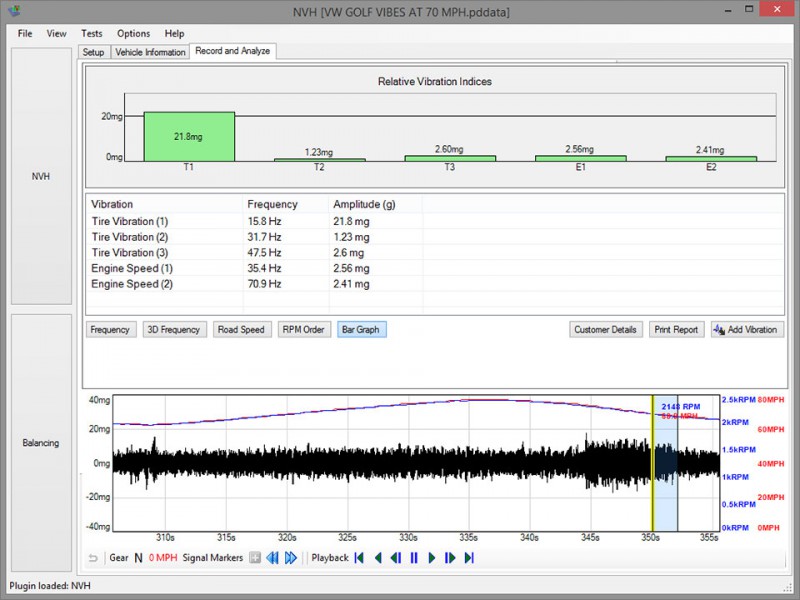 Kit Overview

The Kits include accelerometers (vibration) and microphones (sound) and recording takes place whilst test driving the vehicle. The recording process is automatic so the driver's attention is not diverted from the road and the results can be analysed in the workshop afterwards.
Software Overview
The software provides a real-time diagnosis to the technician, in the form of either: a bar graph, a frequency chart, a 3D frequency chart, RPM order, road speed view or a time domain view.
Essentials Kit and Help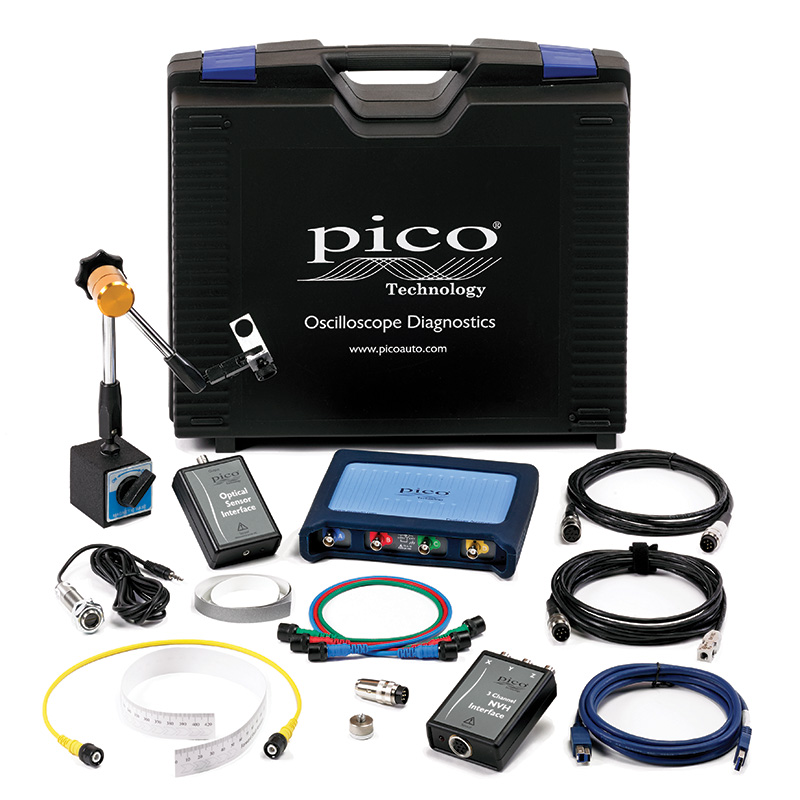 Essentials Starter Kit with Opto
The NVH system requires a PicoScope but if you don't already have one, our Essentials Kits include a 4-channel 4425A PicoScope. The software is easy to understand and setup. Comprehensive help is available to explain likely causes and solutions, and the functions provided by the software make it easy to diagnose the problems in a logical way to reveal the root cause.
Free Software Download – Try it out!
Click to download the free automotive software: PicoScope 6 Automotive 6.12.7 (or from Pico's download page). Once you have installed it, two programmes are available. You obviously need the scope and NVH kit to run the software properly but you can:
Use a 'demo device' to see how the scope software works; or
Load the Pico Diagnostics Package:

Select NVH (on the left) first and then
using the Help menu, choose Show Vibrate Help to see

Principles of NVH Diagnosis; and
details of many of the different vibrations you can diagnose.
Kit Contents
| | | | | | | |
| --- | --- | --- | --- | --- | --- | --- |
| NVH Kit | NVH Interface | Accelerometer | Magnet | Microphone | Extension Cable | Picoscope 4425A |
| Starter Kit | 1 | 1 | 1 | 1 | 1 | - |
| Standard Kit | 2 | 2 | 2 | 2 | 2 | - |
| Advanced Kit | 4 | 4 | 4 | 4 | 4 | - |
| Starter to Standard Upgrade Kit | 1 | 1 | 1 | 1 | 1 | - |
| Upgrade to equivalent Starter, Standard or Advanced Essentials Kit | - | - | - | - | - | +1 |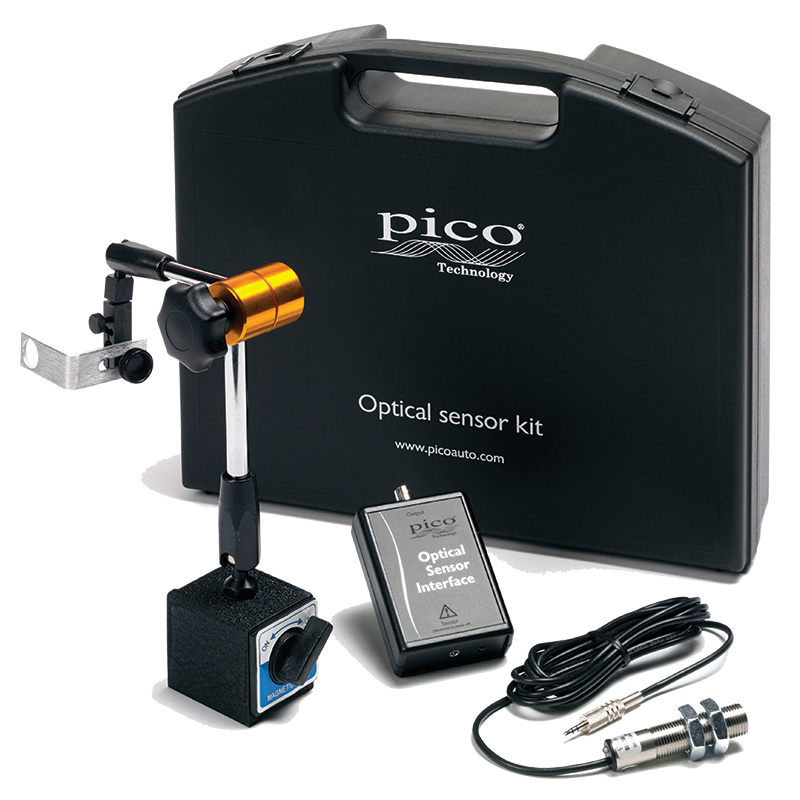 Optical Balancing Kit
Prop Shaft Balancing
As a companion to these Kits, we also have an Optical Balancing Kit. See our article Introduction to Prop-shaft Balancing.
Documents and Videos
You can download the following NVH documents for more information (Some of the kits mentioned in the documents have been upgraded):
Please have a look at three NVH videos.
Pricing and Accessories
All prices are available on our website. No VAT is payable. You can buy Accessories separately to upgrade your Kit.