Universal Breakout Leads and Sets
Designed to save you time and money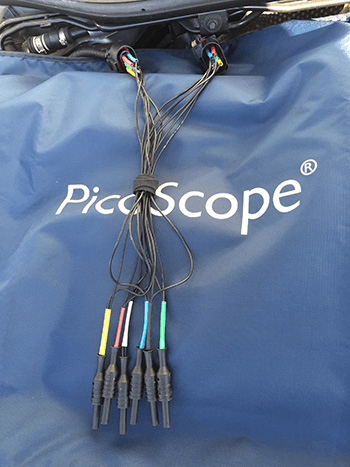 Pico's universal breakout leads (6-way) eliminate the need to own many specific breakout leads for engine diagnostics.
These leads are available with four different sizes of connectors allowing you to connect to virtually any sensor in the engine compartment — of any vehicle — using just four leads. Never again will you need to search your workshop for that expensive vehicle/sensor specific lead.
Length: 370 to 420mm (approximately 14.5 to 16.5 inches)
Connector size:

Micro: 0.6mm
Small: 1.5mm
Medium: 2.3mm
Large: 2.8mm
The complete 6-way univesal breakout lead kit includes a set of 6 leads of each of the 4 different sizes listed above.
How does it work?
The breakout lead is simply connected into the existing cable loom, enabling voltage readings to be taken from the numerous sensors in the engine compartment.
The output signal can then be taken from the 4 mm banana plugs to the input of the automotive oscilloscope using one of our premium test leads.
Documentation
Universal Breakout Leads Leaflet
Connecting Breakout Leads
Please read these instructions before using the breakout leads. Pico Technology takes no responsibility for any damage caused through incorrect use. These leads are designed to be used by experienced/professional automotive vehicle technicians who understand the implications of incorrect use.
The signal pins must be identified using wiring diagrams or other means.
It is possible to cause a short circuit or to cross signal wires if incorrect connections are made - please ensure the correct connections are made!
Ensure the ignition is switched off before removing any multiplugs
On removal of a multiplug keep the plug straight – do not twist the plug out of alignment with its mating partner
Always connect both the male and female terminals
The component-only terminals may be connected if carrying out a resistance test. Ensure the ignition is switched off during the test
Ensure each colour-matched pair of wires in the test lead is used to connect matching terminals in the male and female plugs
Never partially connect the test leads
Always ensure that the terminals are correctly located
Keep test leads aways from hot components, such as the exhaust system
Keep test leads away from moving parts, such as the alternator drive belt
Keep test leads away from electrical cooling fans
Typical Uses
Any measurement taken is only as good as the connection you make to the device under test. The 6-way universal breakout leads will connect to a multitude of vehicle components regardless of connector arrangement. This will ensure you have a 100% successful connection, removing any doubt from your test results.
A broadband oxygen sensor test is a typical example where multiple measurements are required for both voltage and current. The 4 mm banana terminals introduce a simple and secure voltage measurement point for your test lead, whilst a current clamp can be applied to any breakout lead to monitor current.
The breakout leads can also confirm the integrity of the harness/component "terminal tension" by inspecting for "grip" of the breakout lead terminal inside the vehicle connector.
Inspection of terminal pin contact for any matching connector
O2 sensor measurements for voltage and current (including broadband)
Actuator measurements for voltage and current
Sensor measurements for voltage and feedback
"Open" and "short" tests of circuits