A to Z of PicoScope
A to Z of PicoScope is a glossary, a dictionary and a quick reference for the various technical terms used in our website and when using automotive oscillocopes and diagnostic equipment.
A
Adaptors
Alarms
Analog Offset
Attenuator
Auto Setup
Auto-arrange Axes
M18 Adaptor for the WPS500X Pressure Transducer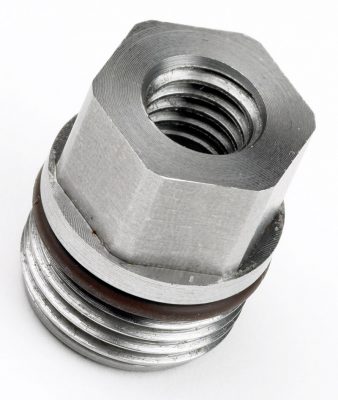 Connection to a vehicle component is key when diagnosing a fault. Often, finding a way of connecting your generic tool of choice to the particular vehicle you have in the workshop is not always straightforward.
Knowing you have the ability to adapt your generic tool to the fitment of almost any vehicle you may have into your workshop is great for confidence, and customer service.
In this particular focus piece, we concentrate on the M18 adaptor from our available range for the WPS500X Pressure Transducer.
The M18 is often used once a spark plug has been removed from the engine. The M18 Adaptor is then used in order to carry out a compression test on a range of petrol (gasoline) engines with the WPS500X.
During a recent case study report, however, we found another use for this adaptor on a 2003 Volkswagen Polo (engine code: AZQ):
"The oxygen sensor was removed and the compression hose of the WPS500X (with compression hose adaptor PICO-TA220 M18) was installed into the exhaust manifold in order to measure the back pressure during cranking."
Have a look at the in-depth report on the VW Polo Case Study.
Refer to our Cross-Reference Guide to see which Kits contain the PICO-TA220 .
Adaptors for the WPS500X Pressure Transducer & the Sight Block
Pico has added two more adaptors and a connector hose to its selection of accessories for the WPS500X.
The Right-angle Rectus-21 Pressure Adaptor

This right-angle adaptor is used with the Sight Block Kit to simplify some of the interconnect requirements when connecting pressure testing kits. It really helps when you need the angle to reach a connector pipe and the space is restricted.

Refer to our Cross-Reference Guide to see which Kits contain the PICO-TA333 .

The Male-to-male Rectus-21 Pressure Adaptor

The male-to-male connector works with the PICO-TA316 Short Hose with a Female-to-female Rectus-21 Coupler and is used with the Sight Block Kit to simplify some of the interconnect requirements when connecting pressure testing kits.

Refer to our Cross-Reference Guide to see which Kits contain the - PICO-TA332 .

The Short Hose with a Female-to-female Rectus-21 Coupler

The short female-to-female hose is a connecting hose with female ends and is used to connect to the Sight Block Kit or any other Sykes-Pickavant gasoline accessory. This hose is a high quality, very flexible unit.

Refer to our Cross-Reference Guide to see which Kits contain the - PICO-TA316 .
Watch the video and learn more about the Sight Block Kit as Steve Smith explains what it is and how it is used.
The Automotive Guided Tests are invaluable for new users, but sometimes you start changing the setup of the scope or need to configure it from scratch.
Whether you are looking to get back to something sensible on the display, or don't know what the signal characteristics are, Auto Setup will figure it out.
When you press the "lightning" button on the Setup toolbar, PicoScope searches for a signal on one of the enabled input channels, then sets up the timebase and signal range to display the signal correctly.

If you have added a few input channels, perhaps some reference channels and have enabled math channels, it can take time to move them around and scale them so that they are all clearly visible.
Auto-Arrange Axes is activated by right-clicking on a view; all the traces are automatically positioned and scaled so that none of them overlap.
B
Battery, Starter & Alternator Test
Breakout Leads Kits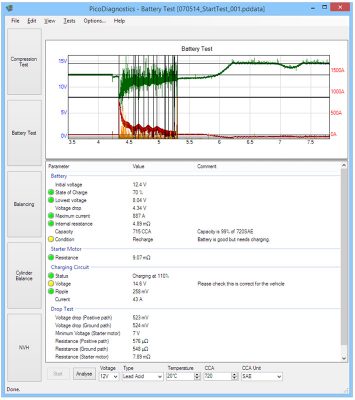 Your PicoScope can also operate as a highly accurate and efficient battery and charging circuit tester. This allows you to test your customers' vehicles without the need for dedicated, expensive test tools.
Using PicoDiagnostics, you can check the battery, starter, alternator and wiring all in one quick test. Easy-to-understand reports with red, amber or green indicators can be printed for customers either to show the electrical system is in good condition or to explain why a component needs replacing.
The battery test checks the state of charge, the voltage drop during starting and compares the cold cranking amps (CCA) with the rating for the battery.
The charging test checks the alternator is correctly charging the battery and spots problems such as overcharging or excessive ripple due to a blown diode.
The starter test helps to identify a failing starter motor by measuring its coil resistance.
The drop test measures the voltage drop and resistance of the cables running from the battery to the starter motor. This will uncover starting issues caused by corroded or damaged battery cables or poor connections to the chassis ground.
Once your test is completed, you can print out a copy of the report for your customer. This report is fully customisable with your own company details and logo for a professional appearance.
At Pico, we work with many different types of vehicles in various markets. Our connection with vehicle manufacturers and testing of new systems for software builds, gives us great access to new vehicles. Most manufacturers use large breakout boxes, which can be very expensive and time-consuming to connect on the vehicles.
Due to warranty issues on wiring looms, many manufacturers are uncomfortable with back-pinning and may select to use Pico's specialist breakout leads instead. We have two kits made for use with different vehicles.
See our Cross-Reference Guide for more information on PICO-PP968 and PICO-PQ030 .
These Breakout Leads have become very popular and are proven to help save you time in waveform capturing. This is evidenced by a dramatic reduction in time spent on testing many engine management systems like injectors, camshaft and crankshaft sensors.
You can connect via the 4mm connector for voltage reading or put a current clamp around one of the colour leads. Each lead is numbered for reference so it is easy to list the connection for the sensor. This can be added in the waveform notes for future reference.
C
Compression Test
ConnectDetect
Cylinder Balance / Misfire Detection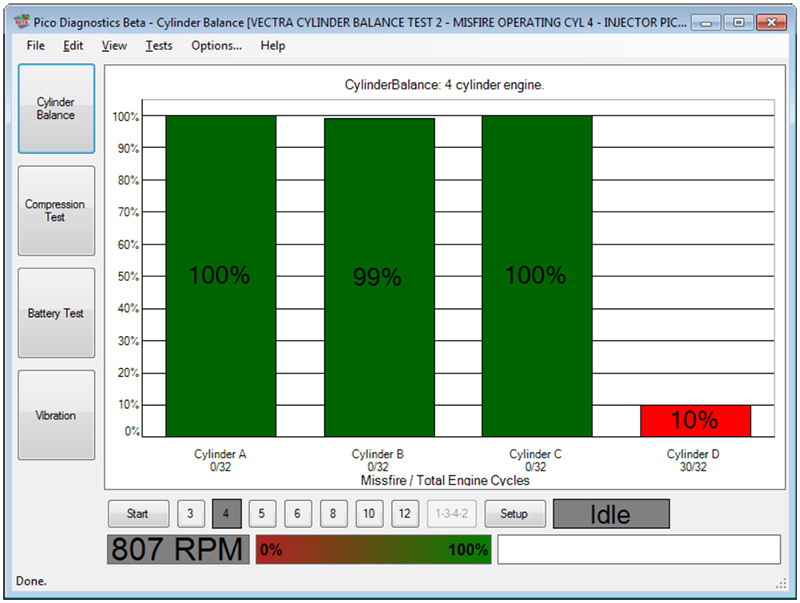 Check for misfires and find out if each cylinder is contributing the same amount of power with the cylinder balance test.
Simply connect Channel A of the PicoScope to the vehicle battery and start the engine. The software detects changes in engine speed as each cylinder fires.
An easy-to-understand bar graph display shows the relative power output from each cylinder.
Please Note: This test will not work correctly on certain vehicles that disable cylinders for emissions control reasons or on low-compression engines with 8 or more cylinders.
D
Deep Memory Oscilloscopes
Digital Triggers
Display
Diesel Glow Plug Adaptor Kit
PicoScope Automotive Oscilloscopes have waveform buffer sizes of up to 250 million samples – many times larger than competing scopes. Most other scopes with large buffers slow down when trying to use a lot of memory, so you have to manually adjust the buffer size to suit each application. You do not have to worry about this with PicoScope deep-memory scopes, as hardware acceleration ensures you can always use deep memory while displaying at full speed.
Deep memory produces several benefits ~
Fast sampling at long timebases;
Timebase zoom; and
Memory segmentation to let you capture a sequence of events.
Many automotive oscilloscopes still use an analog trigger system based on comparators. This causes time and amplitude errors that cannot always be calibrated out and that often limits the trigger sensitivity at high bandwidths.
Pico pioneered the use of fully digital triggering using the actual digitised data. This technique reduces trigger errors and allows PicoScopes to trigger on the smallest signals, even at the full bandwidth. Trigger levels and hysteresis can be set with high precision and resolution; and PicoScope's digital triggering, together with an optimised memory system, allows the capture of events that happen in rapid sequence.
Some digital automotive oscilloscopes only provide triggering in software, which means that you can sometimes not actually see the event you are hoping to use as a trigger.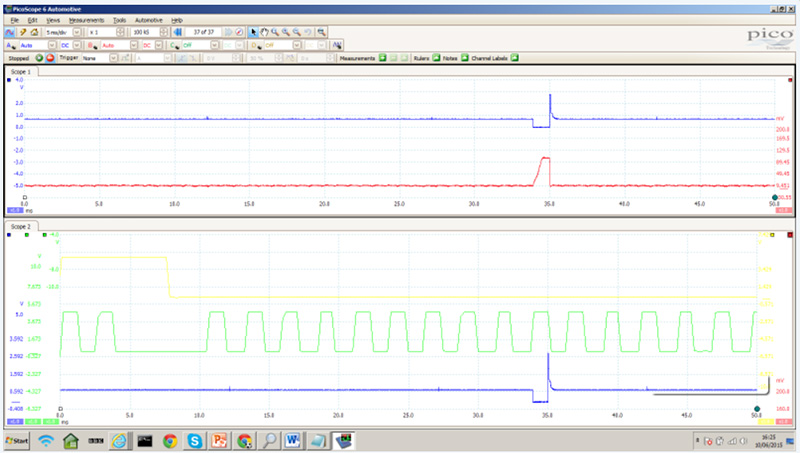 PicoScope software is designed to make the best use of your display area thereby maximizing the waveform size. This ensures that you see as much information as possible in outstanding detail.
With a PC or laptop, the viewing area is bigger and in higher resolution than any handheld tool, allowing you to make use of PicoScope's flexible split-screen capability. As the example shows, PicoScope software can show multiple waveforms, each with its own individual zoom, pan, and filter settings for ultimate flexibility.
E F G
Electric & Hybrid Vehicles
FlexRay
Fuse Extensions & Current Clamps
Guided Tests
H I J
Hall Effect
Intermittent Faults
Jargon Buster
JCASE Fuse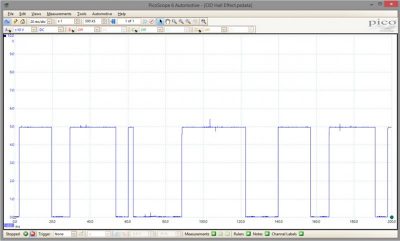 The Hall effect sensor is commonly used in camshaft and crankshaft position sensors, but can also be found in other applications, such as ABS sensors.
Hall effect sensors use the principle of a magnetic field diverting the electrons in a semiconductor in a direction perpendicular from their usual path.
These electrons create a potential difference called the Hall voltage across the semiconductor.
A Hall effect sensor is used in conjunction with a permanent magnet. By interrupting the field of this magnet with a metal disk fitted with blades or windows, pulses of Hall voltage are produced, which are output by the camshaft or crankshaft sensor.
PicoScope displays the Hall voltage pulses as a square wave, thereby reproducing the signals received by the camshaft and crankshaft position sensors.
Intermittent problems are disliked by both customers and technicians, causing frustration, loss of time, repeat visits and potentially expensive parts-swapping in an attempt to eliminate the problem by educated guessing.
Before swapping parts, one of our valued training partners offers the following advice.
"Imagine that the part(s) you are swapping don't fix the problem; what would you do next? Now do that before you change the part(s)."
PicoScope has a wealth of features included in the design from the start. This way it can better equip you in the fight against intermittent problems.
Don't know your BCM from your ECM or your CAN from your LIN? You're not alone. Click on Automotive Jargon Buster to see a list of some of the popular abbreviations that are used in automotive diagnostics.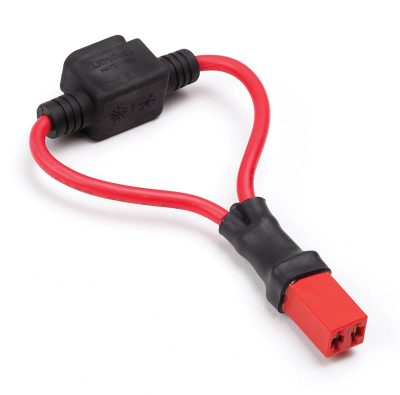 JCASE is a cartridge-style fuse with female terminal design that provides both an increased time delay and a low voltage drop to protect high-current circuits and handle in-rush currents.
For testing JCASE fuse currents, use the JCASE Fuse Extension Lead. Compatible with standard and low profile JCASE fuses, this fits between the fuse and the fuse holder and gives you a loop of wire on which to place a Current Clamp.
Refer to our Cross-Reference Guide for more on the JCASE Fuse Extension Lead - PICO-TA168 .
K L M N
Keyless Entry Signal Carrier Detector
Keyboard Shortcuts
LIN
Memory
NVH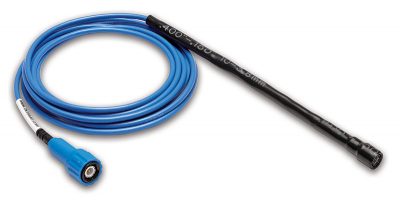 Pico Technology is always looking to solve problems with modern vehicle systems as manufacturers change the way their cars work. Keyless entry has been around for years and now there is a way of testing these sensors.
By using PicoScope with the Keyless Entry Signal Carrier Detector, a sensor with a three-meter-long lead, the technician can detect the presence of a keyless entry carrier signal in the frequency range of 125 to 140kHz, which is used by most manufacturers. The device has a short range by design, allowing the technician to check each pick-up coil in turn to identify faulty units.
Note: The detector does not pick up or decode the high-frequency secure information used to unlock the vehicle. It only displays a waveform of the signal on the screen.
Refer to our Cross-Reference Guide for more on the Keyless Entry Signal Carrier Detector - PICO-TA330 .
LIN (Local Interconnect Network) is a serial protocol used in automotive electronics to allow microcontrollers to communicate with low-speed peripherals. The standard was defined by the LIN Consortium, whic is a group of five vehicle manufacturers.
It uses a single wire pair with a master-slave topology, offering lower cost, reliability and data rates than CAN – hence its use in non-critical, low-speed applications.
Examples of LIN might include commands from a comfort control unit to an electric sunroof motor, windscreen wiper or heater motor functions.
PicoScope's serial decoding feature can decode LIN bus messages.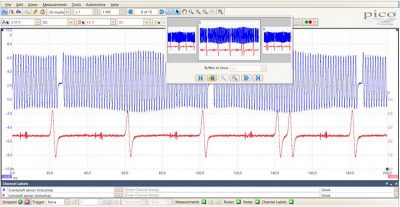 The best way to diagnose an intermittent fault is often to set up the scope to measure from several components and wait for the fault to occur. For an intermittent misfire, you might want to capture several minutes of cam, crank, ignition and injector waveforms. These types of tests require an oscilloscope with a "deep" memory buffer, so that you can capture for long periods of time and then zoom in without any gaps or loss of detail.
With PicoScope you can collect 250 MILLION samples, more than any other automotive oscilloscope. Our advanced "always on" memory technology uses hardware acceleration to ensure that the processing of large amounts of data does not slow the oscilloscope down even when you are using a slower or older PC.
Deep memory allows long recordings at high speed – you capture a complete test drive whilst looking for intermittent faults. When not using the full memory for a single waveform, PicoScope automatically stores up to the last 10,000 waveforms in the buffer, so you can stop the scope and "wind back time" to see every capture.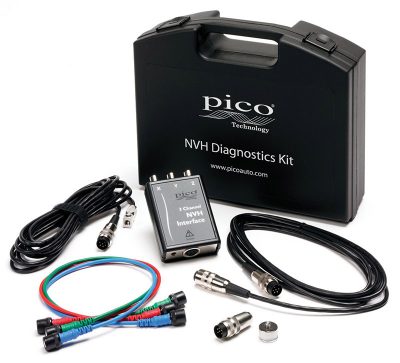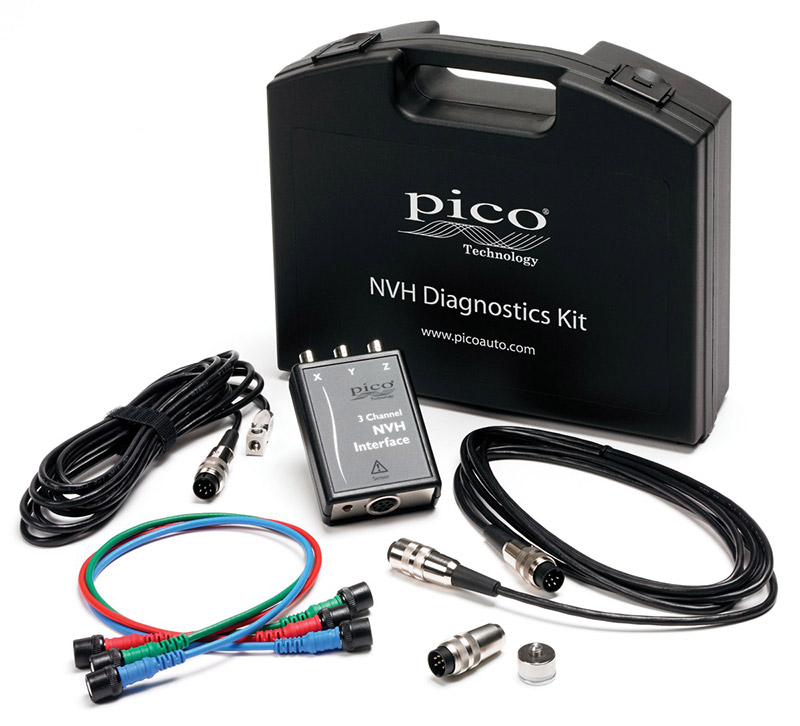 Improvements in damping and sound insulation in modern vehicles mean that vibrations and noise that would previously be ignored (by turning up the radio) are now diagnostic headaches. Many hours can be spent, and many parts swapped, in tracking down customer complaints.
The NVH Kit works with your PicoScope to identify the source of the problem quickly. If the customer complaint is noise, use the microphone; if it's a vibration, use the accelerometer. Sophisticated software quickly pinpoints the source of the problem.
The Kit can be enhanced with Accessories to allow on-vehicle driveline balancing also.
Refer to our Cross-Reference Guide for more on the NVH Kits - PICO-PP986 .
O P Q
Premium Test Leads & USB Cables
PicoDiagnostics
PicoScope 6 Auotomotive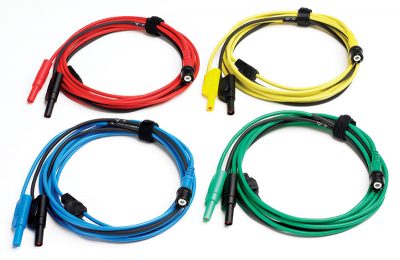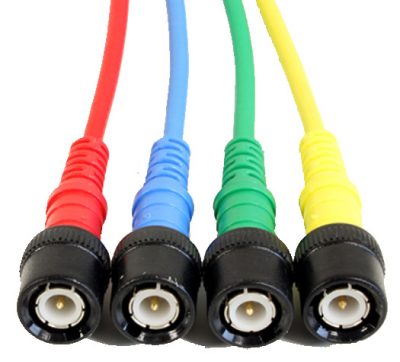 A very important basic accessory for every scope user is the quality of lead used to conduct your tests. We have all seen the spaghetti-tied collection of black leads in an engine bay. How do you find your Channel C lead in the chaos?
Our Premium Test Leads come in 4 different colours that match our Channel colours. They also come in two different lengths - 3 or 5 metres long. We tend to use the 5-metre leads on certain vehicles like commercial and agricultural vehicles because of their length.
Don't forget our special USB Cables also come in two sizes 1.8 and 4.5 metres. These have better power supply and earthing capabilities than standard off the shelf leads.
Refer to our Cross-Reference Guide for more on Premium Test Leads - 3m PICO-PP718 and 5m PICO-PP941 - and the USB Cables - 1.8m PICO-TA155 and 4.5m PICO-TA303 .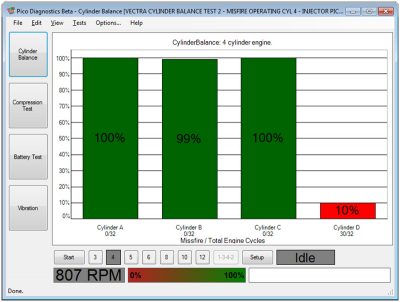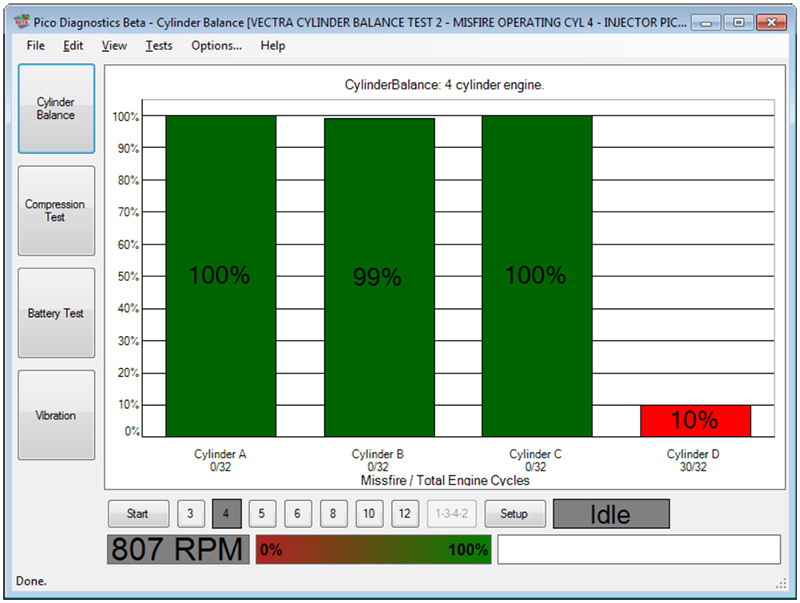 With a simple connection to the battery, the PicoDiagnostics software quickly performs the following tests:
Compression Test
Crank the engine to quickly display the relative compression of each cylinder.
Cylinder Balance / Misfire Detect
Compares the power output of each cylinder and highlights misfires.
Battery Test
Displays CCA, measures state of charge and voltage drop during starting. It gives an overall Pass or Fail.
Starter Motor Test
Checks starter coil resistance and voltage drop across cables. Alternator test. Measures charging voltage and current. Checks for excessive diode ripple.
More information on PicoDiagnostics can be found under Software on Automotive Oscilloscopes.
PicoScope Automotive is a powerful software package that turns your PC into a Diagnostic Oscilloscope when used with a PicoScope device. PicoScope has been designed to make it easy to diagnose vehicle faults. Packed with features such as automated measurements and the ability to save and print waveforms, PicoScope Automotive is the ultimate tool for any diagnostic toolbox.
Important note: PicoScope Automotive R6.12, and later, support Windows 7, 8, 8.1 and 10.
Users of Windows XP (SP3) and Vista (SP2) can still download PicoScope Automotive R6.11 free of charge. PicoScope Automotive R6.11 is the last release that will support these older operating systems. You can download PicoScope Automotive 6.11 from the installation notes on Pico's Downloads page.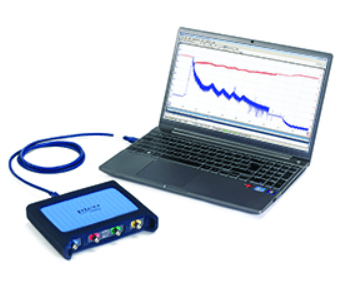 New Features in PicoScope 6 Automotive:
Serial Decoding – UI improvements
Serial Decoding – Packet Fields integration
Serial Decoding – Table performance improvements
Added CAN FD Serial Decoder
Added pop-up notifications
Redesigned channel over-range warning
Improved handling of mismatched PicoScope .psdata files
New Features in PicoDiagnostics:
Google Analytics integration
NVH

Filter improvements
Up to 64 harmonic markers can be added
Microphone playback now combines all channels in view into a single audio channel
OBD PID data can be logged in parallel with vibration data
R
Rulers - Rotation
Rulers - Time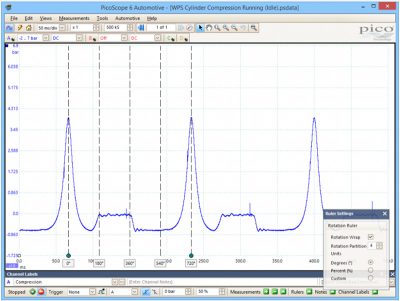 Rotation Rulers
PicoScope can draw Rotation Rulers on a waveform to indicate rotation angles of the crankshaft or camshaft. This feature is particularly useful for analyzing compression waveforms on a four-stroke engine.
Capture your waveform or load a previously captured one from disk.
Drag the green dot - the rotation ruler handle - to the start of your waveform. This represents 0°.
Drag the second green dot to the end of your waveform. This will usually be 720° for a four-stroke engine.
Set the Partitions control to 4 and PicoScope will then automatically divide the waveform into four equal partitions, representing the four strokes of the engine cycle.
PicoScope will display measurements in rotation angles or any other rotation units that you choose.
S
Sight Block Kit
Samples
Sampling Rate
Serial Protocols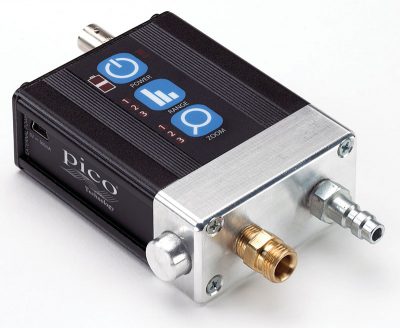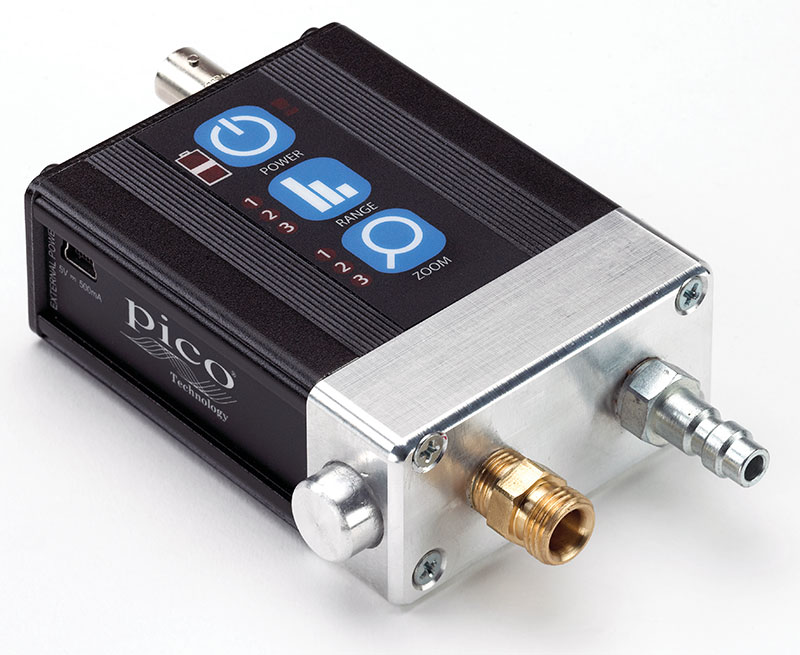 The introduction of the Pico Sight Block opens up another level of diagnostic capability to the WPS500X. This accessory is extremely useful when you are looking for air in low-pressure diesel systems.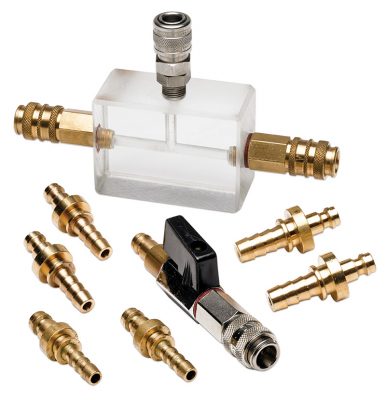 The Sight Block is now available in the Sight Block Kit, which comes with a stop valve for testing a negative pressure fuel pump under load and 3 sets of hose barbs for connecting to different size fuel hoses.
By using the quick-couple barb connectors supplied with the Sight Block, you can effortlessly connect to the vehicle fuel supply and return lines. With a connection like this, you can monitor the integrity of the fuel priming circuits with regards to aeration, colour and direction of flow.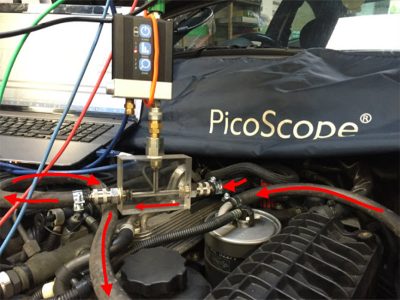 A typical example can be found in this Case Study, where multiple Sight Blocks were used to diagnose a VW Caddy with prolonged engine cranking.
Split or wrongly fitted seal rings on filters or worn fuel supply pipes can be a real problem. The Sight Block forms the classic T-junction to which we can connect the WPS500X to add pressure analysis to fuel priming and return lines.
With the stop valve, the efficiency of fuel pumps, fuel lines, O-ring seals, hoses and pipework can be rapidly evaluated while you monitor the positive/negative pressures with PicoScope for the shut-off period.
Refer to our Cross-Reference Guide for more on the Sight Block Kit - PICO-PQ071 .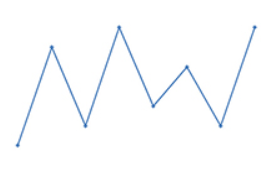 Samples are best explained when we think back to the days of creating a line graph on graph paper. You would take your data and count along the X- and Y-axes in order to mark a point, before moving on and making another and another and another. You would then draw lines between these points to make your line graph.
These points are called samples - the lines you drew is how the oscilloscope draws the waveform between these samples.

Leading on from our Samples information, the sampling rate is simply how many samples will be taken per second. This setting is important when you think about the quantity of data you wish to collect and over what time period.
For a slowly changing signal requiring a longer recording time, use a low sampling rate. For a fast-changing signal over a short time period, use a high sampling rate.
The sampling rate is controlled by the Number of Samples setting in the PicoScope software. Here you tell the software how many samples you wish to collect across your capture. The actual sampling rate (X S/s) can be seen in the Properties panel (Views > View Properties).
When choosing a sampling rate, you must consider the timebase you are capturing over and the memory of your scope; our latest automotive scopes all come with a 250 million sample memory.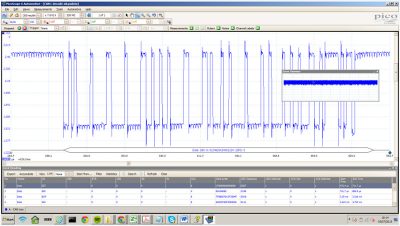 Serial protocols are on every modern vehicle and, increasingly, there will be multiple serial data buses on every vehicle. Some of those will be present on the J1962 (often known as OBD, EOBD or simply 16-pin) connector for communication with serial diagnostic (or scan) tools. Many will be private and vital for the internal operation of the vehicle and essential systems.
PicoScope includes a special feature for decoding the serial protocols, together with standard voltage based testing to reveal problems like noise, poor levels, unbalanced differential signals and a host of intermittent problems.
The common protocols found on modern vehicles are CAN, LIN and FlexRay, with the impending deployment of a new SENT protocol that provides digital data directly from sensors to ECUs.
PicoScope includes as standard decoding of all the above protocols and can reveal timing, bus contention and bus hogging by misbehaving ECUs. When the car is on the coverage list, but your serial diagnostic tool cannot even talk to it, have your PicoScope handy to check that all is as it should be.
T
Timebase
Training
Trigger

To select your desired timebase, simply click on the Collection Time drop-down and select it; here we will use 20ms/div.
The waveform capture area is split into 10 horizontal divisions now, each with a value of 20ms, meaning your total waveform capture time - timebase - is 200ms.
20ms/div is chosen as the general timebase setting to enable the scope to capture all events that take place during a 4 stroke cycle on one screen. This will ensure that you miss nothing from the injection to ignition events. Two valuable points to remember here are:
The four stroke cycle takes 150ms to complete at 800 rpm; and
1 second is equal to 1000 milliseconds.
To view more detail of a single event, reduce the timebase. To view more events with less detail, increase the timebase.
U
Ultrasonic Parking Sensor Detector
Update Rates
USB 3
Many oscilloscopes can appear to have adequate specifications on paper, and it's easier to polish a website description than it is to design a great scope from the ground up.
A key specification that is often omitted by some manufacturers is the waveform update rate, expressed as waveforms per second (wfms/s). This indicates how quickly an oscilloscope acquires waveforms.
PicoScope Automotive Oscilloscopes use deep memory and hardware acceleration to achieve over 100,000 wfms/s to better capture signal behaviour and dramatically increase the ability of the oscilloscope to capture intermittent problems quickly such as jitter, runt pulses and glitches – problems that you may not even know exist when using an inferior product.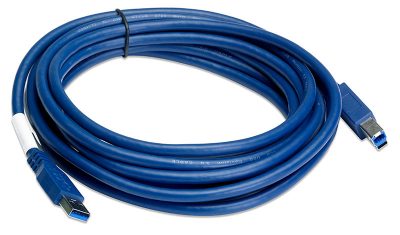 As with the previous generations of PicoScopes, no external power supply is required and there are no batteries to run flat, just a simple reliable connection to the USB port.

The PicoScope 4225 and 4425 have the latest SuperSpeed USB 3.0 port to interface to your PC. Don't worry if your PC only has USB 2.0 ports – the PicoScopes are fully compatible with these too.
If you have USB 3.0 on your PC, you will notice slightly faster screen update rates, faster file saving and USB streaming. As more of our customers move to PCs with USB 3.0, free software updates will ensure that you enjoy the full benefits available from the new standard.
Our unique fast USB streaming allows continuous gap-free data to be collected straight to PC memory. This makes features like our cylinder balance, battery test and (optional) NVH tests possible. It also allows the oscilloscope to display live, real-time data without waiting for the screen to refresh.
Refer to our Cross-Reference Guide for more on the 2-Channel 4225 - PICO-PP918 - and 4-Channel 4425 - PICO-PP919 - Scopes as well as the 1.8m USB 3.0 Cable - PICO-TA155 .
V W X Y Z
Vibration
Waveform Buffer
Waveform Library
Zoom



Vibration is any oscillation (regular movement) that is felt or seen by the vehicle occupants. Vibrations have low frequencies, below 200 Hz.
The PicoDiagnostics NVH System analyses and diagnoses problems with Noise, Vibration & Harshness (NVH) that can be very difficult to isolate without specific tools.
Vibrations can be subjective, but the Pico NVH system provides objective results and can provide you with customer reports for 'before' and 'after' any fixes.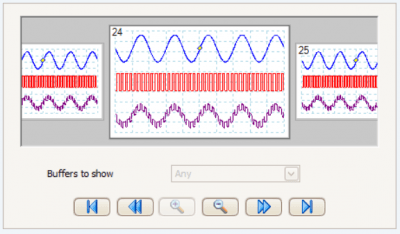 One of the hardest problems to diagnose is the intermittent fault – it may be a customer complaint or may even have triggered a fault code, but it never appears when you are looking.
With PicoScope you don't need to worry about missing glitches or other transient events because the software can store the last ten thousand waveforms in its circular waveform buffer.
Used with triggers or mask limit testing, your PicoScope can be configured to save everything leading up to and following that intermittent event in the waveform buffer.
PicoScope can also be set up with alarms to beep or send you an email to let you know when it has found the problem.
The buffer navigator is how PicoScope lets you navigate and search through waveforms effectively letting you turn back time. Mask limit testing can also be used to scan through each waveform in the buffer looking for mask violations and providing instant visual identification of the problem area.