Autoinform Diagnostic Workshop
Benefit from Frank Massey's invaluable expertise and in-depth knowledge anytime with your own high-quality DVDs of his Diagnostic Workshop video features from Autoinform magazine. Watch and learn via your TV or computer — at home or in the workshop, at your own pace and in your own time. It is the next best thing to having Frank there in person! The DVDs contain exclusive videos of actual vehicle repairs, covering troubleshooting procedures and equipment — which builds into a valuable archive of technical information in the key areas of vehicle diagnostics.
Each DVD has over 90 minutes playing time containing four expert modules.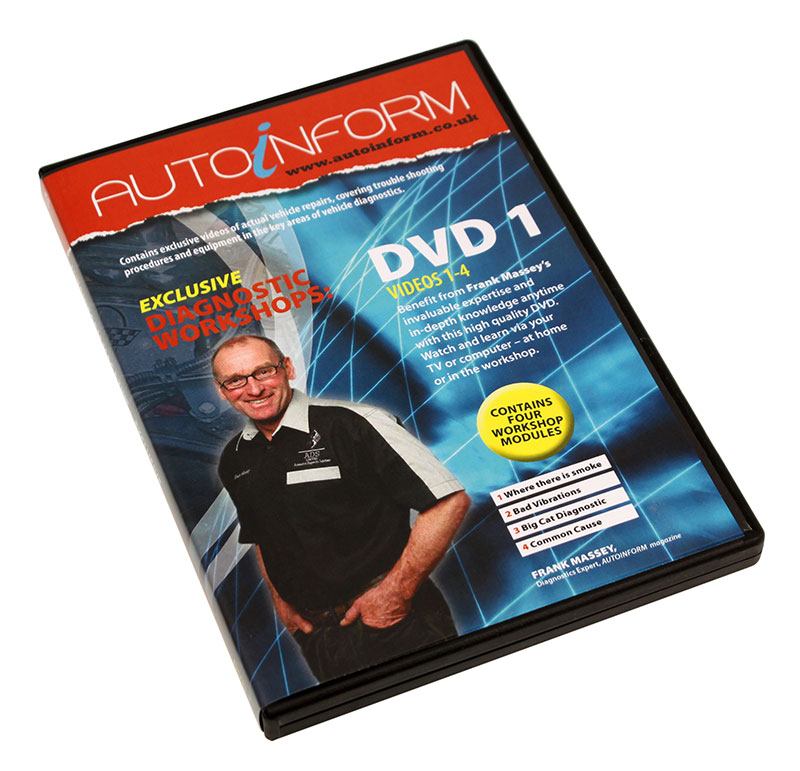 Diagnostic Workshops DVD 1
Video 1: Where there is smoke
Frank looks at an erratic idle problem with one of the latest generation direct injection petrol engines.
Video 2: Bad vibrations
This time Frank is tackling a tricky problem of severe vibrations and loss of power on a Pumpe Duse diesel engine model.
Video 3: Big cat diagnostic
A supercharged Jaguar XKR with the MIL light illuminated has Frank doing some in-depth diagnostics on the broadband lambda sensors.
Video 4: Common Cause
Frank demonstrates an electronic test procedure to establish the performance of the common rail system's mechanical components.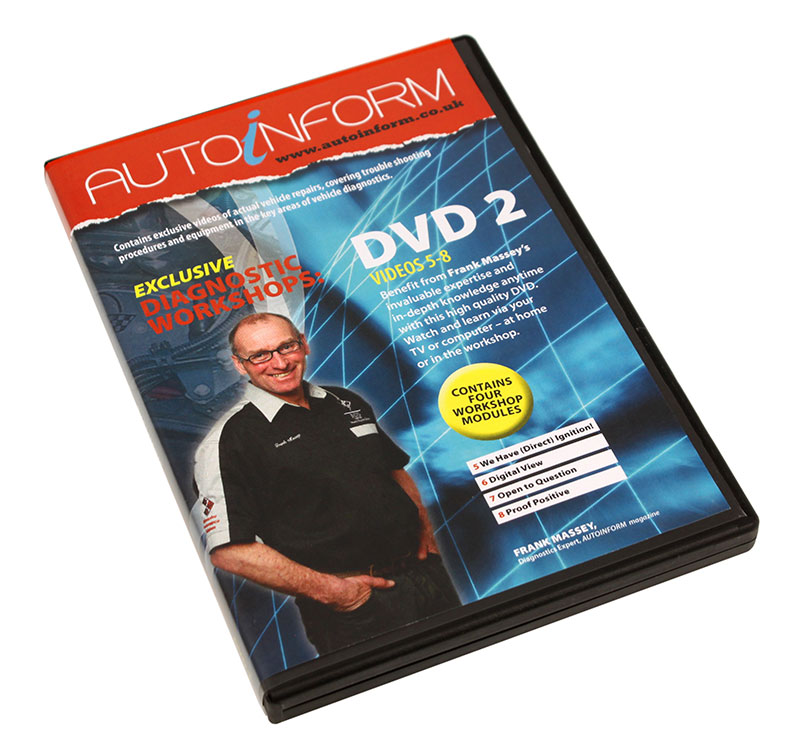 Diagnostic Workshops DVD 2
Video 5: We have (direct) ignition!
Direct ignition, coil-on-plug testing is the subject of this exclusive diagnostic video by Frank.
Video 6: Digital view
Frank demonstrates his method for testing digital air mass and wide band lambda sensors.
Video 7: Open to question
Frank demonstrates his electronic pressure analysis procedure and asks "What do you see?"
Video 8: Proof positive
Frank explains his procedure for proof testing common rail high-pressure pumps using a non-destructive method.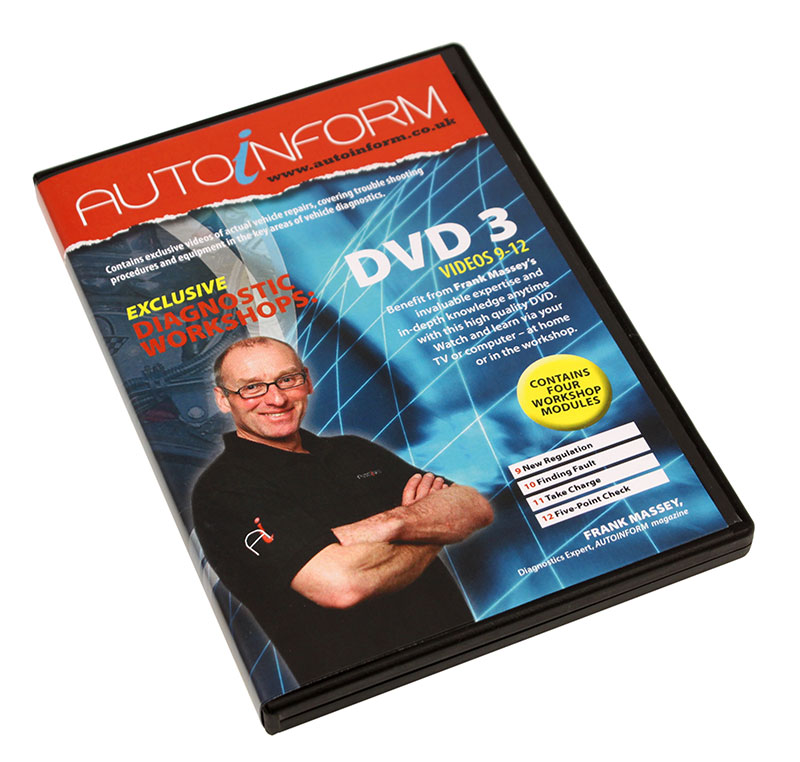 Diagnostic Workshops DVD 3
Video 9: New regulation
Frank discusses rail pressure regulation on Delphi common rail systems.
Video 10: Finding fault
Frank discusses diagnosing intermittent faults.
Video 11: Take charge
Frank explains the need for accurate evaluation of the battery's condition.
Video 12: Five-point check
Frank demonstrates his effective 'five-point check' test procedure.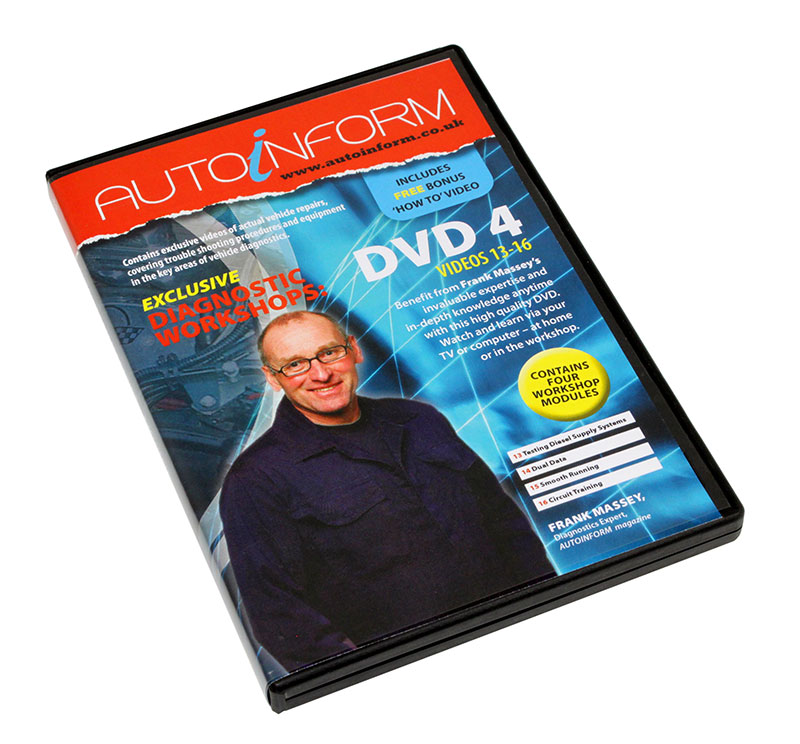 Diagnostic Workshops DVD 4
Video 13: Testing diesel supply systems
Pumpe Duse systems present certain challenges when it comes to diagnosing problems. In this exclusive video, Frank demonstrates the procedure he's developed using a combination of hydraulic and electronic tests.
Video 14: Dual data
In this exclusive video Frank demonstrates his methods of evaluating digital air mass meters and fuel trim using both digital and analogue data.
Video 15: Smooth running
In this exclusive video Frank looks at how to check for balanced fuel delivery on common rail diesels, important for smooth running.
Video 16: Circuit training
n this exclusive video Frank explains injector circuit testing, demonstrating how useful wiring diagrams can be when used in the diagnostic procedure.
Plus free bonus film: How to pin test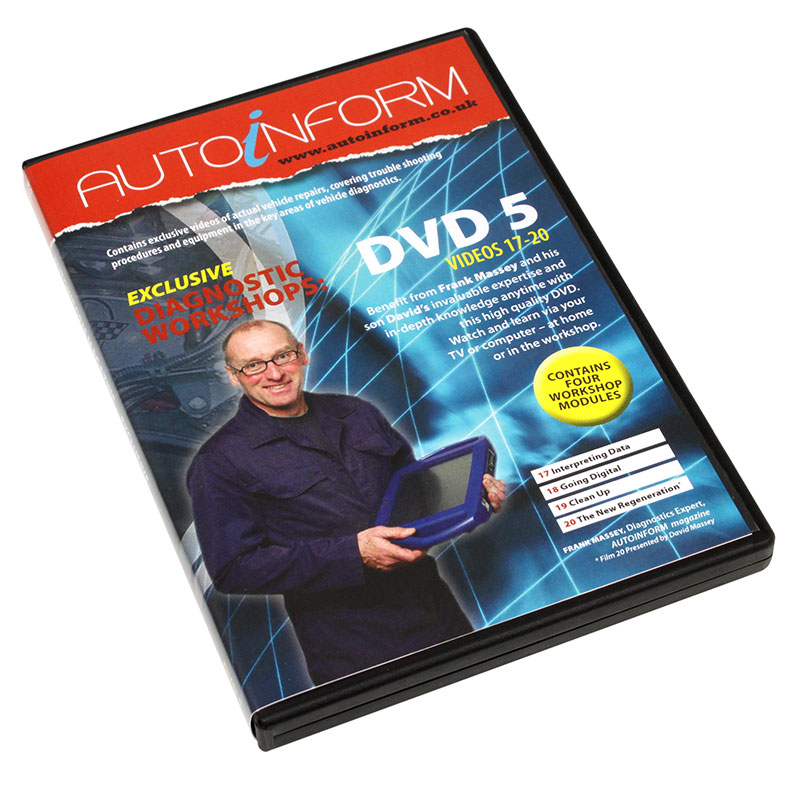 Diagnostic Workshops DVD 5
Video 17: Video 17: Interpreting data
Interpreting data and establishing a suitable test procedure is the topic of this exclusive video. Frank Massey, demonstrates his proven methods on a Rover 75 diesel with an intermittent fault.
Video 18: Going digital
Frank Massey explains in detail how to analyse air mass meter function using the Autologic diagnostic tool, a Picoscope and amp clamps.
Video 19: Clean up
In this exclusive video, Frank looks at premature contamination of intake systems, which is becoming a common problem on modern engines due to erratic drive cycles associated with urban motoring and extended service intervals.
Video 20: The new regeneration
In this exclusive video Frank's son David looks at tackling DPF regeneration caused by poor driving and low fuel quality as well as long life servicing.