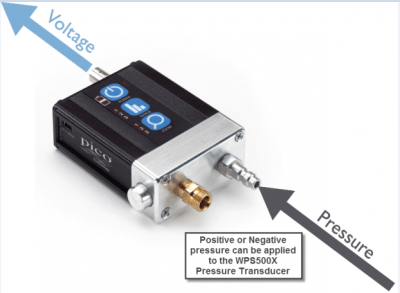 Pressure Sensors, Components and Kits
Oscilloscopes usually measure electrical quantities. These sensors extend their capabilities to pressure. Our pressure sensors respond very quickly and allow you to perform a range of tests on vehicles including compression, exhaust pulsations, fuel pressure and vacuum. Our hydraulic sensor is useful for earth moving, mining, agriculture and a vast range of industrial hydraulic applications.
Click on the descriptions for more information about each product. Learn more about the low to medium pressure WPS500X and the high pressure WPS600C.
WPS500X Transducer and Kits
The WPS500X is a low to medium pressure transducer with an extrmely fast response time of 100 micro seconds.
Oscilloscope Kits including the WPS500X
WPS500X Transducer Accessories
A large number of accessories are available to assist you in performing tests using your WPS500X. Please also consider our Kits that contain many of these accessories. Please note that these accessories are designed for the WPS500X and are not suitable for the high pressure WPS600C hydraulic applications.
Hoses
Adaptor Kits
Spark Plug Adaptors
Diesel Glow Plug Adaptors
Fuel and Vacuum Adaptors
Fuel Sight Block
Couplers and Adaptors
WPS600C Transducer and Kits
The WPS600C is a high pressure transducer for hydraulic applications also with an extrmely fast response time of 100 micro seconds.
Oscilloscope Kits including the WPS600C
First-Look Sensor
Miscellaneous
Carry Cases
Cables