ArtiLink200 OBD2 Scan Tool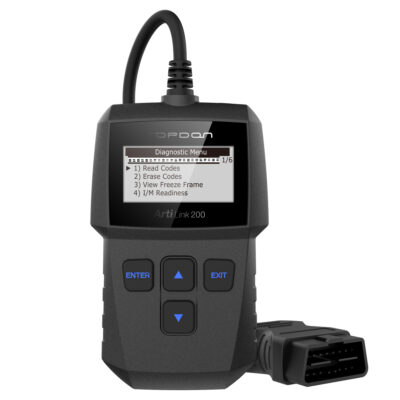 The TOPDON Artilink200 reads vehicle fault codes to help you to find a fault. Once the fault has been repaired, you can use the device to clear the fault code which turns off the check engine light (Malfunction Indicator Light or MIL). You can also check I/M readiness status, view freeze frame data and the vehicle identification number (VIN). The ArtiLink200 is an affordable, efficient, must-have OBD2 code reader targeted at beginners looking for fast and accurate solutions to general engine and AT system problems. It is an entry-level tool and works on most generic fault codes.
Overview
MIL TURN-OFF: The OBD2 code reader, TOPDON Artilink200 supports reading and clearing codes stored in a vehicle's ECU about Engine and Transmission faults and it allows you to clear generic codes which turns off the check engine light after maintenance is complete.
I/M READINESS CHEKING: The I/M readiness checks sensors related to emissions. OBD II compliant vehicles have a range of tests that are run to find problems with the emmisions system. The Topdon ArtLink200 can show if tests have not run or completed.
DATA RETRIEVAL: Freeze frame data allows you to retrieve certain vehicle conditions which are recorded by the on-board computer at the time an emission-related fault occurs. It also retrieves the vehicle identification number (VIN) which helps users identify the vehicle.
SUITABLE VEHICLES: The TOPDON Artilink200 Code reader is suitable for most 1996 US-based, 2000 EU-based and newer vehicles that are equipped with a 16 pin OBD port and are compliant with OBD2/CAN protocols.
WARRANTY: TOPDON warrants to its customers that this product will be free from all defects in materials and workmanship for a period of one (1) year from the date of the original purchase. Terms and conditions apply.
Controls
1. OBD II CONNECTOR Connects the code reader to the vehicle's Data Link Connector (DLC).
2. LCD DISPLAY Displays test results.
3. ENTER BUTTON Confirms a selection (or action) from a menu list.
4. EXIT BUTTON Exit the current program or return to the previous screen.
5. UP BUTTON Move cursor up for selection.
6. DOWN BUTTON Move cursor down for selection.

Features
TOPDON Artilink200 is an entry-level OBD2 Code Reader in the TOPDON diagnostics series. It is equipped with basic OBD functions to help you with diagnosis of many (but not all) fault codes in Engine and AT systems

Reading Codes Show the detailed description of the current Diagnostic Trouble Code (DTC); Retrieve generic (P0, P2, P3, and U0), some manufacturer specific (P1, P3, and U1) codes and pending codes.
Erasing Codes Turns off Check Engine Light (MIL), clears codes and resets monitors.
I/M Readiness Status Shows whether the various emissions-related systems on the vehicle are operating properly and are ready for inspection and maintenance testing.
Reading Freeze Frame Data Allows the technician to view the vehicle's operating parameters at the moment a DTC (Diagnostic Trouble Code) is detected.
Reading Vehicle Identification Number Reads and displays the VIN for users to identify the vehicle information.

Connector The TOPDON Artilink 200 is equipped with 16pin connector, which is suitable for most OBD2/CAN protocol vehicles.
Cable A 105cm (41.34 inches) connecting cable enables users to use the tool whilst sitting comfortably in the driver's seat or even whilst standing outside the vehicle, instead of having to bend.
Tough and Reliable This code reader is made of ABS plastic, and together with rubber keys. It's an ideal tool for basic OBD problem solving.
Clear, Bright Display It has a black-and-white LED screen (128 * 64 pixels). This code reader is great for data analyzing, even in the brightly lit conditions. all the information is displayed clearly.
Built-in Code Lookup The TOPDON Artilink200 code reader features a built-in OBD2 DTC lookup library which shows code and code meanings. You don't need to waste time searching for code definitions or identification on the Internet.
Protocols The TOPDON Artilink200 code reader has a significant advantage over many letter products as it supports ALL OBD2 protocols, including K Line, L Line, Double CAN, J1850 PWM, and J1850 VPW Communication Protocols.
Languages Multiple Languages are supported: English, French, German, Spanish, and Dutch.
Simple Controls There are 4 buttons on AL200, The up/down buttons are for scrolling the menu. The Enter and Exit buttons allow for navigation into and back out of menus.
Power Supply No batteries or charger is required to power the code reader. It derives power directly from the vehicle via the OBDII Data Link Connector.
Warranty
A 12-month warranty covers manufacturing defects.
Support
Get technical support via email or on our website. Please contact us if you are unsure if the scanner tool is suitable for your vehicle or if you have any questions.
Specifications:
Display Backlit, 128 x 64 pixel display
Operating voltage 9 - 16V DC (supplied by the OBD Connector)
Vehicle Diagnosis Protocol K Line, L Line, Double CAN, J1850 PWM, J1850 VPW Communication Protocol
Operating Current 40 - 50mA
Power Consumption 600mW
Interface Type OBD II 16PIN Standard Interface
Product Material ABS Plastic housing with rubber keys
Length 105mm
Product Weight 202g (.451lb)
Packing List
1 Main Unit
1 User Manual