OBDCAN Elite 1.0 Scan Tool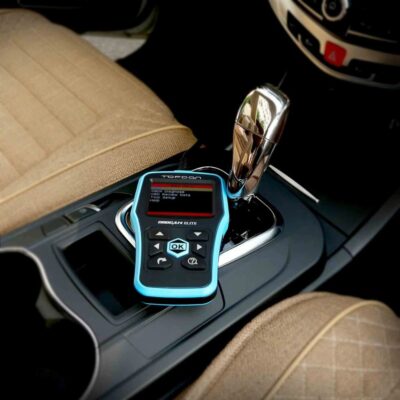 The Elite includes support for ABS and SRS (Airbag) for many cars manufactured after 1996.
Full OBD II Functions: This OBD II diagnostic scanner allows you to perform quick and complete tests on the engine system. The Elite helps you to check the vehicle emissions. It also includes Reading and Clearing DTC Codes, Live Data, Freeze Frame Data, I/M Readiness Status, O2 Monitor Testing, On-Board Monitor Testing, Component Testing, Vehicle Information and much more.
Controls and Connectors

The Image shows the OBDCAN Plus however, the Elite controls are the same except for the TF Card, which is only available on the Elite Scan Tool (See items 2 and 4).
1 OBD-16 Connector and Cable Connect to the Vehicle's diagnostic port
2 USB Port / TF Card Slot Cover
3 USB Port Connect to a PC to update the device's firmware
4 TF Card Slot Insert the TF Card to update your handset (under the USB Port and TF Slot Cover 2)
5 LCD Display Graphical Display shows test results, messages and navigation
6 OK Button Confirms a selection or an action from a menu list on the LCD Display
7 ▼ Down Button Moves the cursor down
8 Handgrip Ergonomically shaped to make the unit easy to operate
9 ► Right Button Moves the cursor Right
10 ? Help Button Retrieve a DTC the database
11 Return Button Exit the current programme or return to the previous screen
12 ◄ Left Button Moves the cursor left
13 ▲ Up Button Moves the cursor up
Notable Features
Extensive Coverage Works on most 1996 US-Based, 2000 EU-Based and newer vehicles (OBD II and CAN Protocols) with multilingual support: English, French, Spanish, Japanese, Chinese, German, Italian, Russian and Portuguese;
ABS and SRS This is an advanced OBD II Scanner. The Topdon Elite supports ABS (brakes) and SRS (airbag) checks on many vehicles and allows you to determine the status of these systems and turn off the warning light.
OBD II Functions Read and clear Diagnostic Trouble Codes (DTCs),turn off MIL, view freeze frame data saved when a malfunction occurs, which allows you to perform quick and complete tests on the engine system;
Additional Capabilities One click to read I/M readiness. Save time by displaying the data streams as a graph for a quick check on vehicle's engine health status; Built-in DTC lookup enables you to quickly find the malfunction without having to check on the Internet.
High Quality Hardware Features a 2.8-inch TFT 320*240 LCD display for intuitive diagnostic results display. Also it allows printing out diagnostic data recorded by connecting to a computer via the USB cable supplied.
Update and Service Free lifetime updates and 12-month warranty. Garage Lube offers service and assistance support via email.
ABS and SRS and other Diagnostic Function
ABS is designed to prevent the wheels from locking under breaking to avoid uncontrolled skidding. If the ABS Warning Light is on, you can use your Elite Scan Tool to diagnose and repair a problem before it becomes life-threatening and in many cases, clear the warning light once the problem is solved.
SRS prevents injury to vehicle occupants caused by an impact or crash. You can use your Elite OBD Scanner to read problem codes and clear them once the problem is solved.
Perform complete checks on the engine quickly, using the Ultrascan OBDCAN Elite Scan Tool. The unit has OBD 2 functions including:

Scan Tool Functions
Reading Codes (DTC)

The codes returned by the vehicle are called Diagnostic Trouble Codes (DTC)
When a DTC is present, the Engine Check Light, also called the Malfunction Indicator Light (MIL), is lit
Detailed descriptions are aviailable.
Retrieve generic P0, P2, P3 and U0 codes
Retrieve Manufacturer specific P1, P3 and U1 codes and pending codes.

Clearing Codes (DTC)

Turns off the MIL when you clear codes and reset monitors. If the problem has not been fixed, the code may be re-asserted and the MIL will be lit again.

Read Vehicle Information

Subject to the vehicle supporting the functions, you can read the Vehicle Identification Number (VIN), Consumer Information Notice (CIN) details and the Calibration Verification Number (CVN - which is a checksum used to see if the programme has been altered).
Vehicles produced after 2000 generally support this but certain new vehicle manufacturers have stopped providing details citing privacy concerns.

DTC Lookup (what does a code mean?)

Each DTC has a definition which tells you what is wrong. The Topdon OBDCAN PLUS looks up the definition of trouble codes to help you understand the cause of the problem quickly.

View freeze-frame data

Certain data can be recorded by the vehicle's on-board computer at the time that an emission related fault occurs. You can use the OBDCAN PLUS to examine that data.

I/M Rediness Monitor Status (emissions tests passed)

OBD II compliant vehicles have a range of tests that are run to find problems with the emmisions system. The Topdon OBDCAN Plus Scan Tool can show which tests have not run or completed.

Graphical Display of live data streams
O2 Sensor Data

Retrieve and view the results of the most recently performed oxygen sensor monitor tests from the vehicle's on-board computer.

Test data review
On-board Monitoring Test

Retrieves and displays emission-related power-train components and systems test results.

Read Pending Codes
View Modules Present

Allows viewing of the module IDs and communication protocols for OBD2 modules in the vehicle.

Component Test

Allows initiating a leak test for the vehicle's EVAP system

Upgrade over the Internet (Free)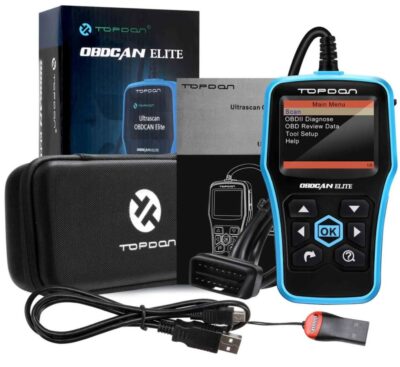 TOPDON OBDCAN PLUS Scan Tool 2.0 Specifications
Screen 2.8" TFT 320x240 LCD
Input Voltage 9V - 18VDC
Connection OBD 16 Pin
Current Consumption 150mA at 12V (typical)
Power Consumption 1.8W Typical
Operating Temperature 0°C to 50°C
Storage Temperature -20°C to 70°C
Working Humidity < 80%
Dimensions 85 x 150 x 20mm
Mass 260g