PicoScope Professional Breakout Lead Set
The Kit comprises the following 19 different sized sets of 4 universal breakout leads and a set of back-pinning probes:
14 Sets with flat blade connectors

0.6mm
0.8mm
0.84mm
1.0mm
1.2mm
1.3mm
1.5mm
2.0mm
2.3mm
2.8mm
4.8mm
6.0mm
8.0mm
8.3mm

4 Sets with round connectors

1 Set with square connectors

Right-angle back-pinning probes with hard tip 0.7mm outer diameter with 300 mm extension lead
With all the connectivity options it provides, the kit improves your chances of making a sound connection between the terminals of any connector you might encounter.
Each breakout lead within each set of four is colored to match one of the standard PicoScope channel inputs (i.e. blue, red, green or yellow) to help you keep track of connections and channels.
The leads' connectors are designed to be minimally small and easy for you to manoeuvre into tight spaces, even when the terminals are close together, yet they maintain sufficient rigidity to be easily guided into position.
The individual breakout leads clip together into a single block for ease of handling and help keep your cable routing neat and tidy when you have several leads connected to adjacent terminals.
Typically, you use breakout leads to take circuit voltage measurements. You can also use them to extend part of a circuit to improve the access available to other probes, such as current clamps. However, when a connector is particularly inaccessible (for example, when it cannot be sufficiently separated without the removal of other components), you have the option of using the right-angle back-pinning probes included in this set.
Note: The individual sets of test leads are not available for purchase separately.
Watch - Air Fuel Sensor Test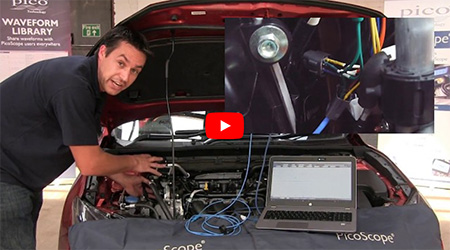 In this video, Ben Martins, one of Pico's Automotive Applications Specialists in the UK, checks out the Premium Breakout Lead Set (PICO-PQ070) using it to check the air fuel ratio. Please note that this Kit has been replaced with the PICO-TA514 Professional Breakout Lead Set above.