PicoScope Automotive Diagnostics
A PicoScope is not, and does not replace, a scanner or OBD tool. It works with your scan tool to help you find and diagnose the real cause of a problem.
There are many Scan Tools available, which all rely on the vehicle's ECUs (Electronic Control Units) to produce a fault code that shows the general location of a problem.
But, what if the ECU or CAN bus is faulty, can you rely on a fault code? What if the fault code can be as a result of many different problems? Do you swap components until the problem goes away? This can be very expensive, especially where components might code themselves to the vehicle when they are installed.
Using your PicoScope in conjunction with your Scan Tool can solve many of these problems.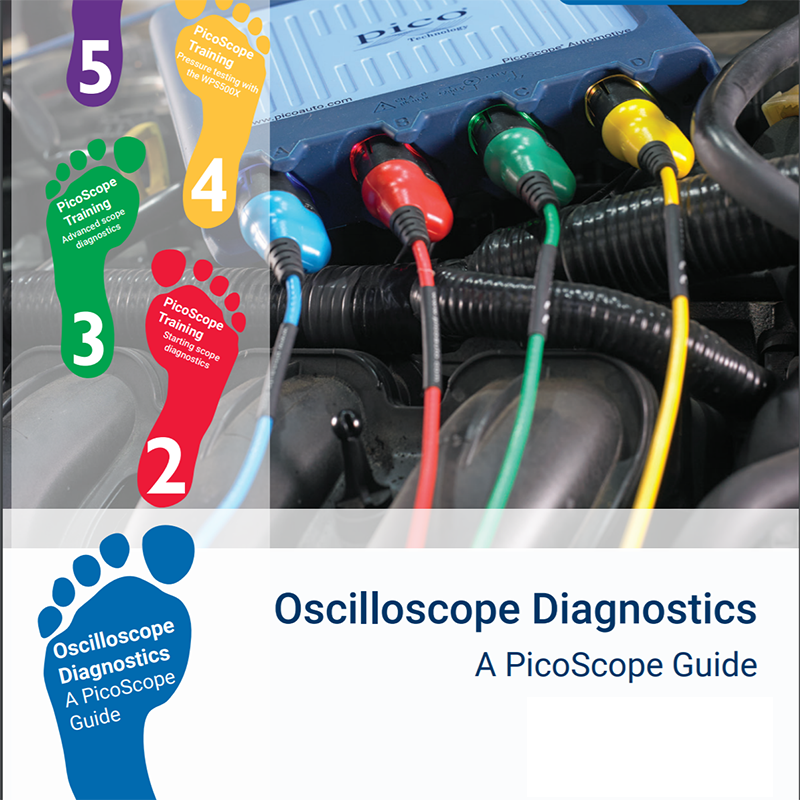 Typically, you would:
Start with a Scan Tool to find the location of the fault (fault codes);
Then use your PicoScope to test the components and trace the real cause of the problem;
Repair or replace the component you have verified is faulty;
Retest using your PicoScope to ensure that the cause of the problem has been eliminated;
Use your Scan Tool to clear the Fault Code; and
Finally, use your Scan Tool to check that the Fault Code does not recur.
Why PicoScope?
There are many Automotive Oscilloscopes on the market but none offer the specifications and features of a PicoScope. Here are a few of the most useful:
Speed: PicoScope can sample at 400 million samples per second and has a bandwidth of 20MHz. Diagnose high speed CAN, CAN-FD and even FlexRay signals with built-in decoding.
Buffer: PicoScope can store up to 250 million samples. You can run tests for more than 13 hours with more than 5000 samples stored for every second of the test. Scroll through the buffer and find intermittent faults easily.
Voltage: PicoScope is extremely rugged and can measure up to 200V without any attenuators.
Floating Grounds: Many scopes have common grounds - they are connected together, which can cause damage if channel grounds are connected to different potentials (e.g. across the battery). PicoScope can withstand up to 30V between channel grounds, which means that you can think of the 4-channel PicoScope as 4 independent multi-meters.
Subscriptions: None! PicoScope Software is free and can be downloaded from the Internet. Your PicoScope improves all the time as you receive free updates.
Tests, Free Training and more
See our Introduction to Diagnostics, including our 10 top tests, for more. Download our PDF Brochure or visit the PicoAcademy for free training.
PicoScope Software - No Subscriptions
PicoScope Software and PicoDiagnostics are free with your PicoScope, with updates for life. Download it from PicoAuto Downloads. You can also evaluate and learn about the software in Demo Mode, without a PicoScope. Have a look at PS7 Demo Mode on our Technical Training website.
Active Diagnostics and PicoBNC+™
An oscilloscope, such as the latest PicoScope 4225A, 4425A or 4823 from Pico Technology in the UK, is at the heart of one of the most advanced automotive diagnostic systems available. It is able to diagnose automotive electric, electronic, mechanical, NVH and pressure problems.
Despite its outstanding quality, specifications and abilities, Pico products are well-priced and easy to use. It has been developed over more than twenty years and is used world-wide.
The PicoScope Automotive App
Pico have released their App which is available on Apple's App Store and on Google Play. Scan the codes or search for PicoScope.
The App provides an introduction to your diagnostic journey. It explains using videos, animations, short descriptions and images what PicoScope is, how to use it and how it can make your workshop much more efficient and profitable. Use the App to find out what oscilloscope diagnostics are, how to get started, understand waveforms and decide which kit is best for you. See some real life applications and enjoy training videos.
Pico will be updating and improving the App and you will always be kept up-to-date with the latest information. We hope you enjoy using the App and please let us know if you have any comments or questions.
Popular PicoScope Kits
There are a number of kits available. A selection of the most popular is shown below. The Standard Kit is a great entry level kit. You can start using you PicoScope immediately and purchase further accessories later as you need them. The Diesel kit is, as the name implies, best for diesel vehicles. There are longer test leads for larger vehicles. Ignition testsing components in the Standard Kit are replaced with items more suitable for diesel testing. The EV kit is for testing Electric Vehicles and charging systems. Safety is paramount because of the dangerous, high voltages present on EVs. There is also Standard Kit to EV Kit upgrade available.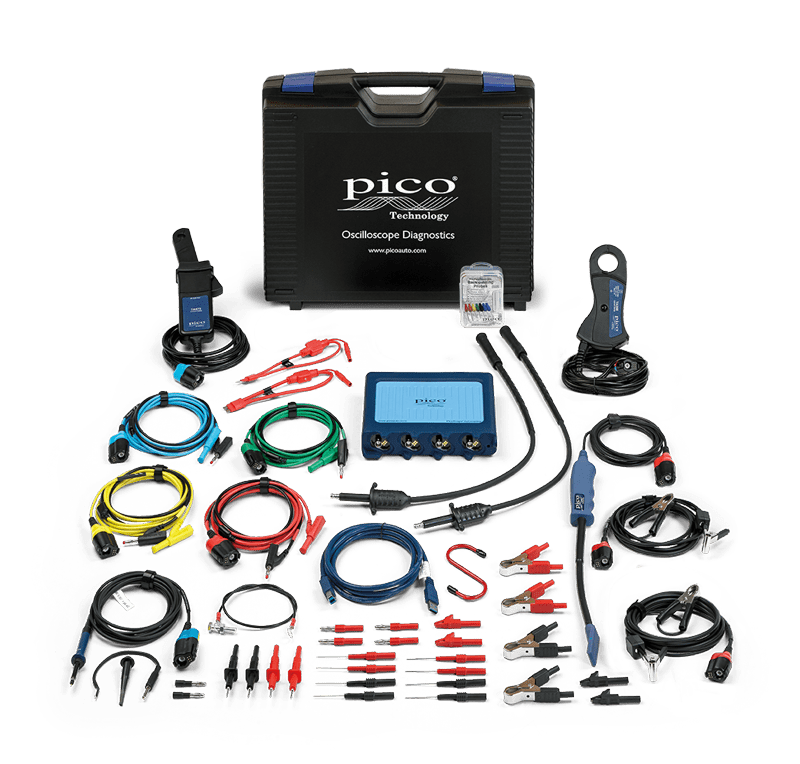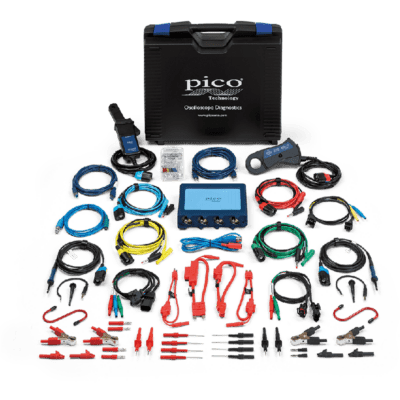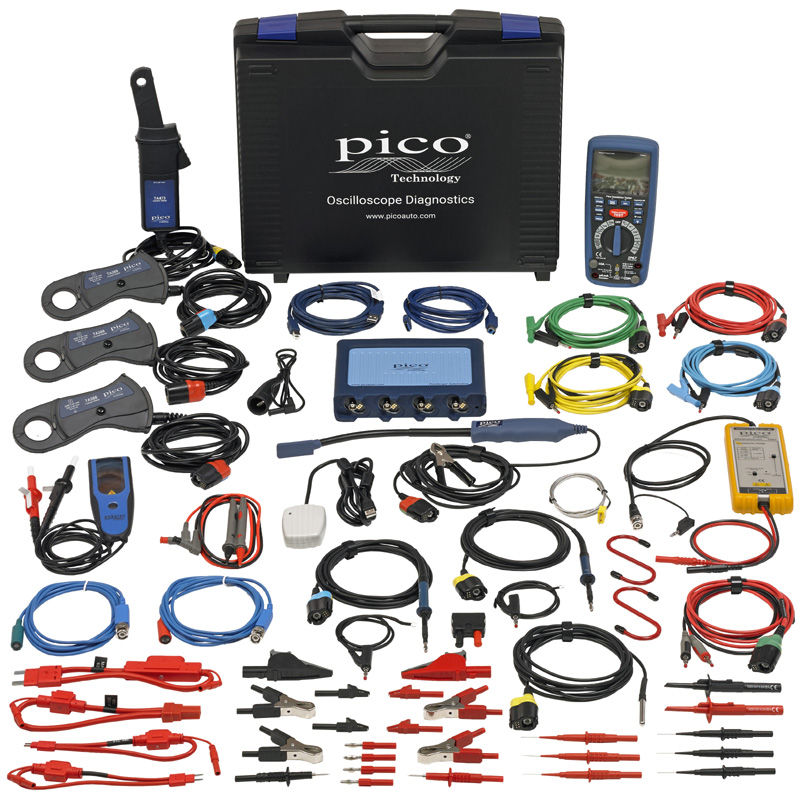 4425A ELECTRIC VEHICLE KIT
Test Electric Vehicles with the
4425A EV Kit
Automotive Oscilloscopes
An Automotive PicoScope turns your laptop or desktop PC into a powerful diagnostic tool as a result, you can think of it as the X-ray machine of diagnostics. It lets you see the changing signals inside wires.
In order to use the Automotive Scope, you will need a PC and some test leads to connect to the vehicle. As a result, most people purchase one of the award-winning Pico Automotive Diagnostics Kits. These money-saving Kits contain everything you need so please consider the 4425A 4-Channel Standard Kit or one of the more advanced kits such as the EV Kit or the 8-Channel 4823 Professional Kit, rather than purchasing the oscilloscope on its own.
PicoScope Diesel Engines and Hydraulics Kit
Your PicoScope is well suited to diagnosing problems in both Diesel and Petrol Engines. A Diesel Kit is available with longer leads to help with large vehicles.
By combining the high-precision hydraulic transducers with a Pico Automotive Kit, you can use the Engine and Hydraulics Kit look at hydraulic pressures in the same time frame as the engine control signals. Consequently, you have complete visibility of how the system is operating. You can now see the exact moment valves start to move in the hydraulic system and compare this directly to the relevant electronic controls. Additionally, you can investigate stalling and 'no start' conditions due to the comprehensive coverage of engine and electrical systems.
What is an Automotive Oscilloscope?
An oscilloscope (scope) such as the 4425A, 4225A and 4823 is a simple device that draws a graph of a value (e.g. voltage, current, pressure, sound) vs time. The PicoScope is a storage scope, so it draws the graph (actually up to four at the same time) and remembers it. Consequently, you can study what happened after the event occurs.
Learn more about how scopes work with our free, on-line, introductory training courses and also, watch some of our videos to see the scope in operation.
Features and Benefits of PicoScope
Measure and test most of the electrical and electronic components and circuits in any modern vehicle including:
Batteries, alternators and starter motors
CAN bus, LIN bus and FlexRay
Compression, Vacuum and Fuel
Electronic throttle control
Ignition (primary and secondary)
Injectors and fuel pumps
Lambda, airflow, ABS and MAP sensors
Starter and charging circuits
Noise Vibration and Harshness
Hydraulics
A PicoScope leads to faster, more efficient diagnostics and a better understanding of how vehicle systems work.
Eliminate guesswork, test individual components before replacing.
Find intermittent wiring and connector faults.
Solve a no-code or misleading code problem.
Investigate charging and starting problems.
Resolve problems with actuators such as motors and injectors.
Identify mechanical problems such as compression and timing.
Noise, Vibration and Harshness (NVH) problems.
Please note that our PicoScope Product Range is available to customers in Southern Africa.