4425A 4-Channel Engine and Hydraulics Kit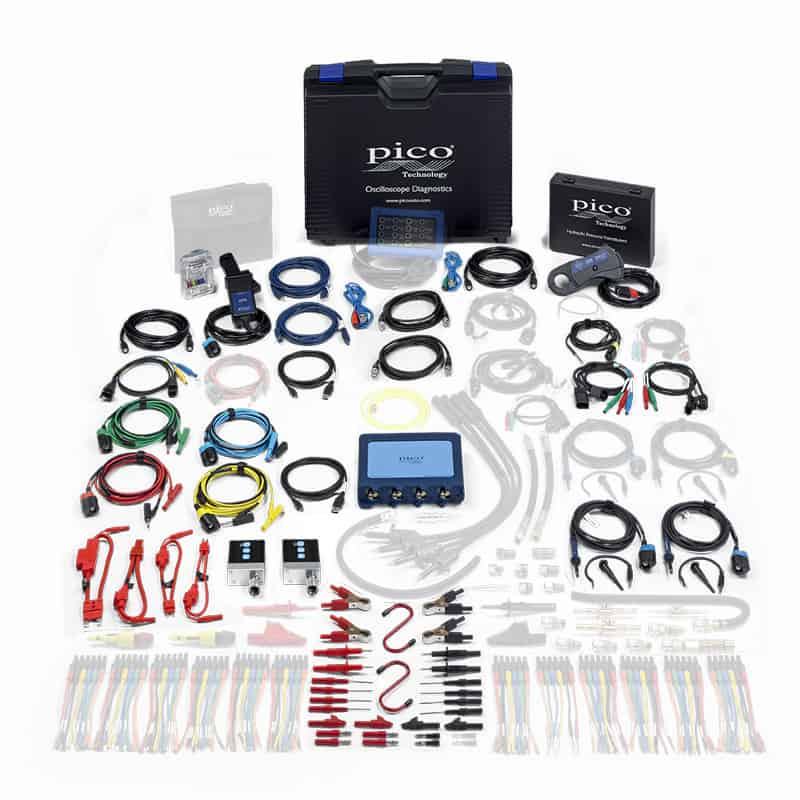 Engine and Hydraulics involves comprehensive diagnostics and analysis and our new Kit is perfectly suited to this. It is a combination of our Diesel Kit with two WPS600C Hydraulic Pressure Transducers, enabling you to diagnose faults quickly and accurately on many different types of mobile machinery.
By combining the high-precision hydraulic transducers with this Kit, you can now look at hydraulic pressures in the same time frame as the engine control signals giving complete visibility of how the system is operating. You can see the exact moment valves start to move in the hydraulic system and compare this directly to the relevant electronic controls.
You can also investigate stalling and 'no start' conditions due to the comprehensive coverage of engine and electrical systems.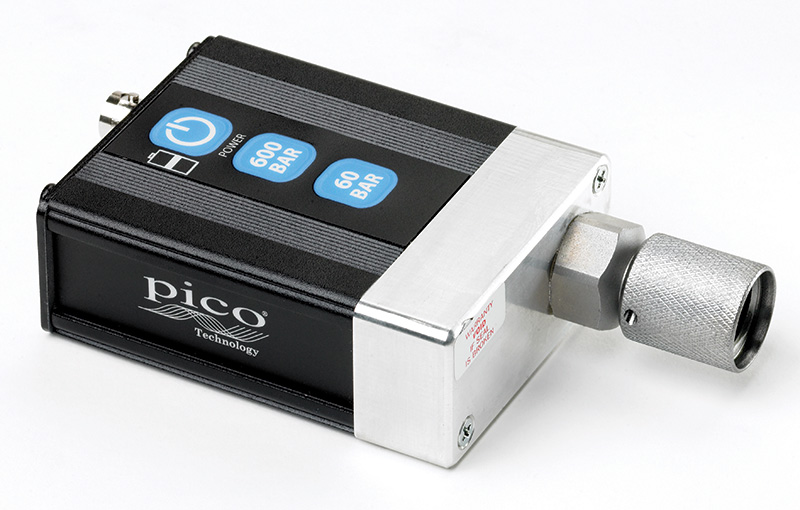 With PicoScope you have direct access to over 150 built-in guided tests covering engine and electrical sensors, actuators and systems. These include both voltage and current measurements and cover camshaft, crankshaft, oxygen sensors, injectors and many more. These tests give you a head start in diagnosing and fixing engine faults right first time; when combined with the hydraulic system they allow diagnosis of complex interactions of the hydraulic and engine systems.
2 Carry Cases are also provided or you can choose to store your Kit in Foam.
You can expand your Kit as necessary thereby increasing the number of tests you can perform by purchasing extra accessories.
WPS600C Pressure Transducer

With high accuracy and a wide measuring range, the WPS600C Hydraulic Pressure Transducer connects to your PicoScope for convenient analysis and diagnosis of pressurized systems.

Accurately measure up to 600 bar (8700 psi)
Ultra-fast 100 microsecond response time (0% to 90% of full scale)
Internal rechargeable LiPo battery
Industry-standard M16 x 2 test point connector
Auto zeroing
High noise immunity
Temperature compensated

Not for continuous operation.

Due to the wide range of hydraulic fittings in use we do not supply any specific adaptors or hoses for use with this product. Those provided with the low pressure WPS500X are not suitable for use with the higher pressure hydraulic systems.

We recommend contacting your regular hydraulic hose supplier for any additional fittings or custom hose assemblies you may require to suit your specific system.

Pressure ranges

Two pressure ranges for increased versatility The two pressure ranges of the WPS600C allow accurate measurement and diagnosis of permanent and non-permanent automotive and industrial hydraulic systems.

Range 1 The first range, 0 to 600 bar (approximately 8700 psi) gives you high resolution and accuracy for high-pressure tests in hydraulic systems.

Range 2 The second range measures from 0 to 60 bar (approximately 870 psi). This range is ideal for low-pressure hydraulic systems and oil pumps.

Range
Pressure Range
Accuracy
Response Time
Output Scaling
1
0 to 600 bar
0 to 8700 psi
1% of scale
100 µs
1 V/100 bar
1 V/1450 psi
2
0 to 60 bar
0 to 870 psi
1% of scale
100 µs
1 V/10 bar
1 V/145 psi

Nothing compares to the WPS600C

It is not unusual to require a different pressure transducer for each diagnostic test you want to run. The WPS600C eliminates this need by giving you one ultra-high resolution transducer that can be used for a multitude of hydraulic diagnostics applications. With two pressure ranges and a rechargeable Li-Po battery, all enclosed in a durable housing the WPS600C is the cost-effective answer to pressure analysis.

When price, performance and versatility matter, there is nothing that compares to the WPS600C Pressure Transducer.
Uses

The Engine and Hydraulics Kit is designed for you to be able to diagnose problems on your equipment, relating to either engine or hydraulics. Allowing pressures up to 600 bar to be monitored against time enables the technician to connect the WPS600C to the relevant hydraulic test port, then view activity and transitions in hydraulic pressure that were never previously visible with conventional gauges.

Hydraulic pump performance
Hydraulic valve switching activity
Hydraulic pressure control valve performance
Hydraulic pressure decay
Residual hydraulic pressure




Hydraulic Waveform Examples and Analysis

Have a look at different waveforms and analyse the following examples:
Tests using the Engine & Hydraulics Kit

| | | | |
| --- | --- | --- | --- |
| Compression Test | MAF Sensor | Camshaft Adjuster | CAN Bus |
| Cylinder Balance | MAP | EGR | Blink codes |
| Battery Alternator Test | Pedal Sensor | Glow Plugs | Flex Ray |
| Alternator | Road Speed | Injectors | KWP2000 |
| Starting Volt/Amps | Solenoid Valve | Speed Control Valve | LIN bus |
| ABS | Throttle Position | Valve Timing | Cam vs. Crank Position Sensors |
| Camshaft | Knock Sensor | Amplifier Earth | Primary Ignition vs. Crank |
| Temperature Sensor | Cooling Fan | Amplifier Signal | Primary Ignition vs. Injector |
| Crankshaft | Fuel Pump | Primary | Cam, Crank, Injector and Ignition |
| Distributor Pick-Up | Stepper Motors | Primary Ignition | |
| Fuel Pressure | Throttle Servo | SAW Signal | |
| Lambda | Pressure Regulator | DIS Primary Voltage vs. Current | |
Please have a look at our comprehensive list of
Automotive Guided Tests
.
NB
Some tests may require additional accessories that may not be supplied with this kit.

4425A 4-Channel Engine & Hydraulics Kit in Case
PICO-PQ195


4425A 4-Channel Engine & Hydraulics Kit in Foam
PICO-PQ238
4425A 4-Channel Engine & Hydraulics Kit in Case & Foam
PICO-PQ285
4823 8-Channel Engine & Hydraulics Kit in Case
PICO-PQ202
Watch the Video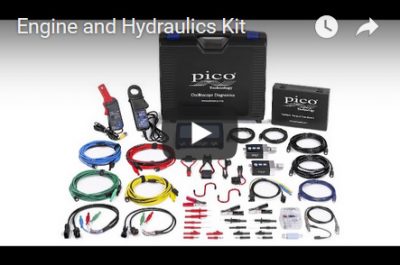 Download the Documents