Automotive PicoScope Features

4225A 2-Channel PicoScope only
PICO-PQ173

4425A 4-Channel PicoScope only
PICO-PQ174

4823 8-Channel PicoScope only
PICO-PQ185
Automotive Oscilloscope Kits containing a PicoScope
Explore the Automotive PicoScope Features. An introduction to PicoScope Kits, Tests, the Waveform Library and Accessories. Introduces Pressure Testing and Noise, Vibration and Harshness.
One of the best Automotive PicoScope Features is our extensive range of kits. The Pico Automotive Diagnostics Kits work with your PC to measure and test virtually all of the electrical and electronic components and circuits in any modern vehicle including: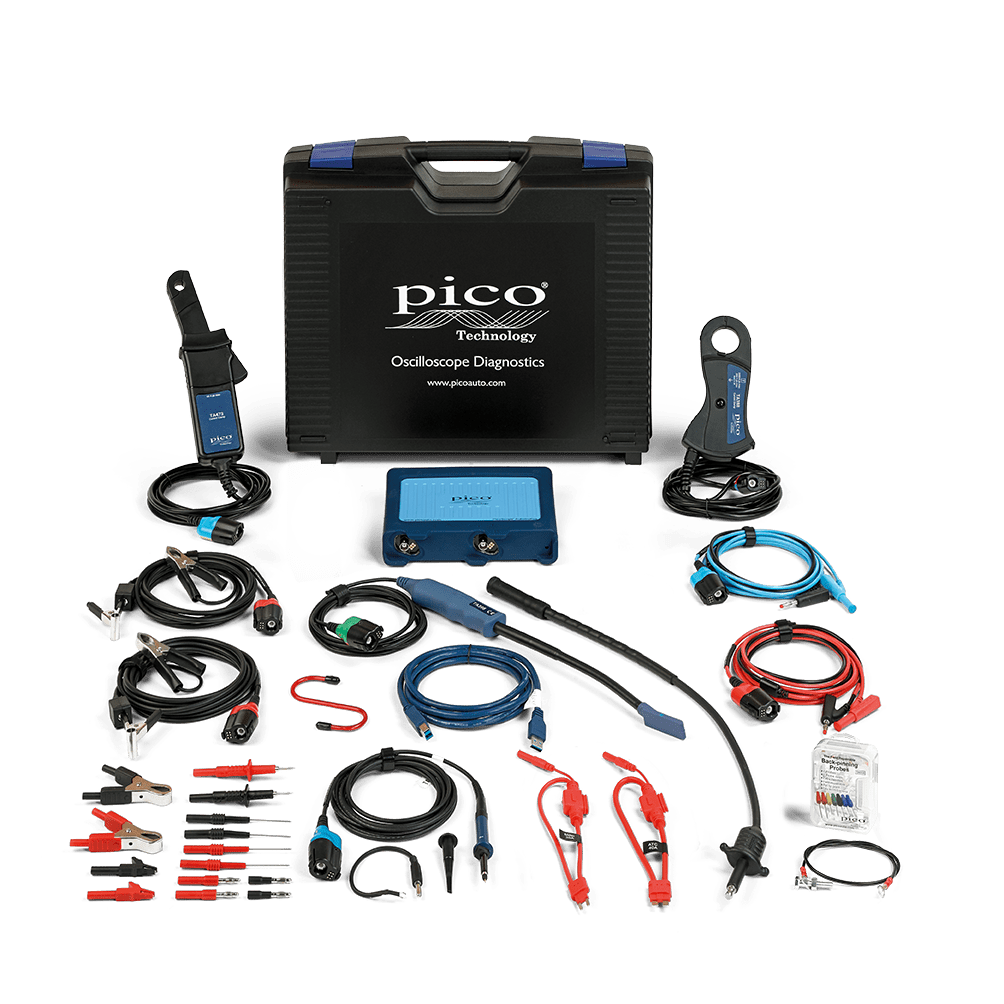 Ignition (primary and secondary)
Injectors and fuel pumps
Starter and charging circuits
Batteries, alternators and starter motors
Lambda, airflow, ABS and MAP sensors
Electronic throttle control
CAN bus, LIN bus and FlexRay
Compression, Vacuum and Fuel
Noise Vibration and Harshness
Hydraulics - Earth Moving and Mining
Electric Vehicles
Many more...
Scan tool or scope?
We are often asked "Should I buy a scan tool or a scope". The short answer is that you need both. A scan tool can often point you in the right direction, perhaps indicating a misfire on a specific cylinder but too often the less experienced technician then ends up replacing several parts before the problem is solved. Oscilloscopes should be used:
To eliminate guesswork and test individual components before they are replaced. This avoids "parts darts" where more and more parts are replaced until the fault goes away.
To find intermittent wiring and connector faults.
When a vehicle has a problem but no code has been set or when multiple / misleading codes have been set
As the best way to find charging and starting problems.
To find problems with actuators such as motors and injectors that are not monitored by the ECU.
To identify mechanical problems such as compression and slipped / incorrectly fitted timing belts.
For the technician, oscilloscopes lead to faster, more efficient diagnostics and a better understanding of how vehicle systems work. For the workshop, using a PicoScope encourages a "fix it right" culture by reducing the number of parts changed on guesswork. The net result is improved customer satisfaction, increased repeat business and increased profits.
Open your eyes with PicoScope software
PicoScope 6 is the most advanced automotive oscilloscope software available to date. It is stable and has been in use for many years. With award-winning features and intuitive design, this software is designed to make sure you get to the heart of the problem, fast.
When you use PicoBNC+ Accessories with the A-series scopes, the scope can identify the accessory you plug in (e.g. current clamp, resisance probe) and the software will setup the scope automatically for you.
PicoScope 7 is available in beta, which means that it is still being developed. It is almost ready for release and many workshops have stared using it in production already.
PicoScope 6 and 7 are free, with upgrades for life and can be downloaded. You can try using the software now, using a built-in, limited-function 'demo device', before you buy your PicoScope.
Automotive PicoScope features such as auto setup, tutorials and the guided tests quickly get new users up to speed. Advanced features such as maths channels, waveform buffers, advanced triggers and reference waveforms ensure the experienced user will not run out of power.
The modern user interface is easy to use. There are no old-fashioned knobs and dials. We leave the space free for what matters: your waveforms displayed in crisp, clear high resolution.
PicoScope software has now firmly established itself as the industry standard so the time you invest in improving your diagnostic skills will benefit you for the rest of your career. Regular updates to our software include new features and new tests, and are free for the life of the product.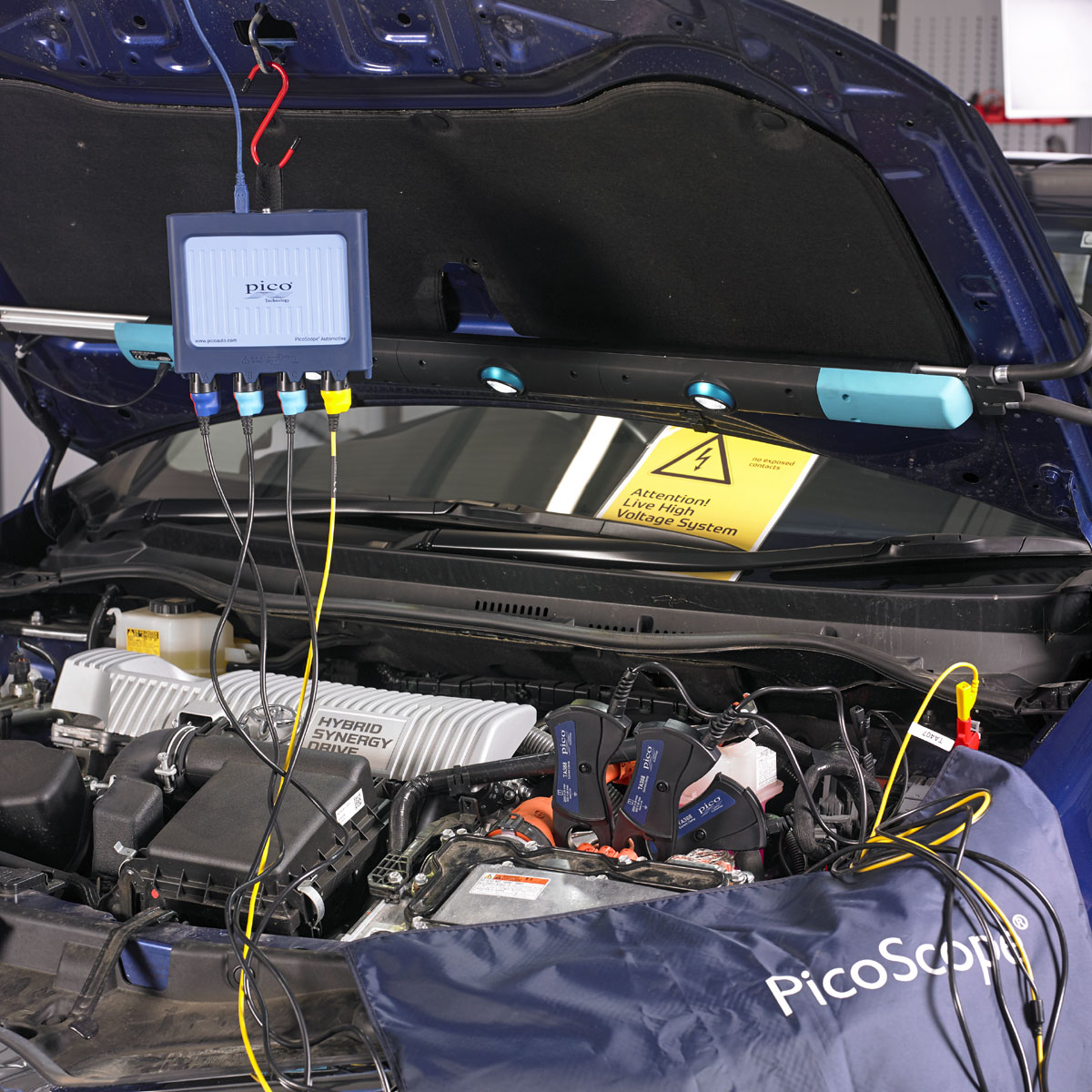 PicoScope Guided Automotive Tests
There are over 150 guided tests, ranging from simple injector tests through to more complex topics such as CAN bus testing, integrated into the software.
When you select a guided test all settings are configured for you, and an example waveform is loaded. Diagrams and photos then show you the leads and accessories you need, how to connect to the vehicle, and how to perform the test. Once the test has been completed you will find guidance on understanding the waveform, how the component works, and typical faults/fixes.
Each test:
The tests cover all the important systems and components you are likely to see, including many sensors, actuators, and network systems, such as CAN bus, FlexRay and LIN.
And we'll continue to add more tests through the free software updates and as vehicle technology changes demand.
Waveform Library
The library enables you to share and back up your waveforms online and also search a global database of waveforms uploaded by PicoScope users from around the world.
The powerful search options let you find "known good" waveforms from vehicles identical to the one you are working on. Not sure if you have a slipped timing belt? There are hundreds of cam vs crank waveforms to compare against. Not sure if the cranking current is too high? Download a waveform to compare.
PicoDiagnostics
PicoDiagnostics software is included with the PicoScope Software and can be used to quickly perform the following tests: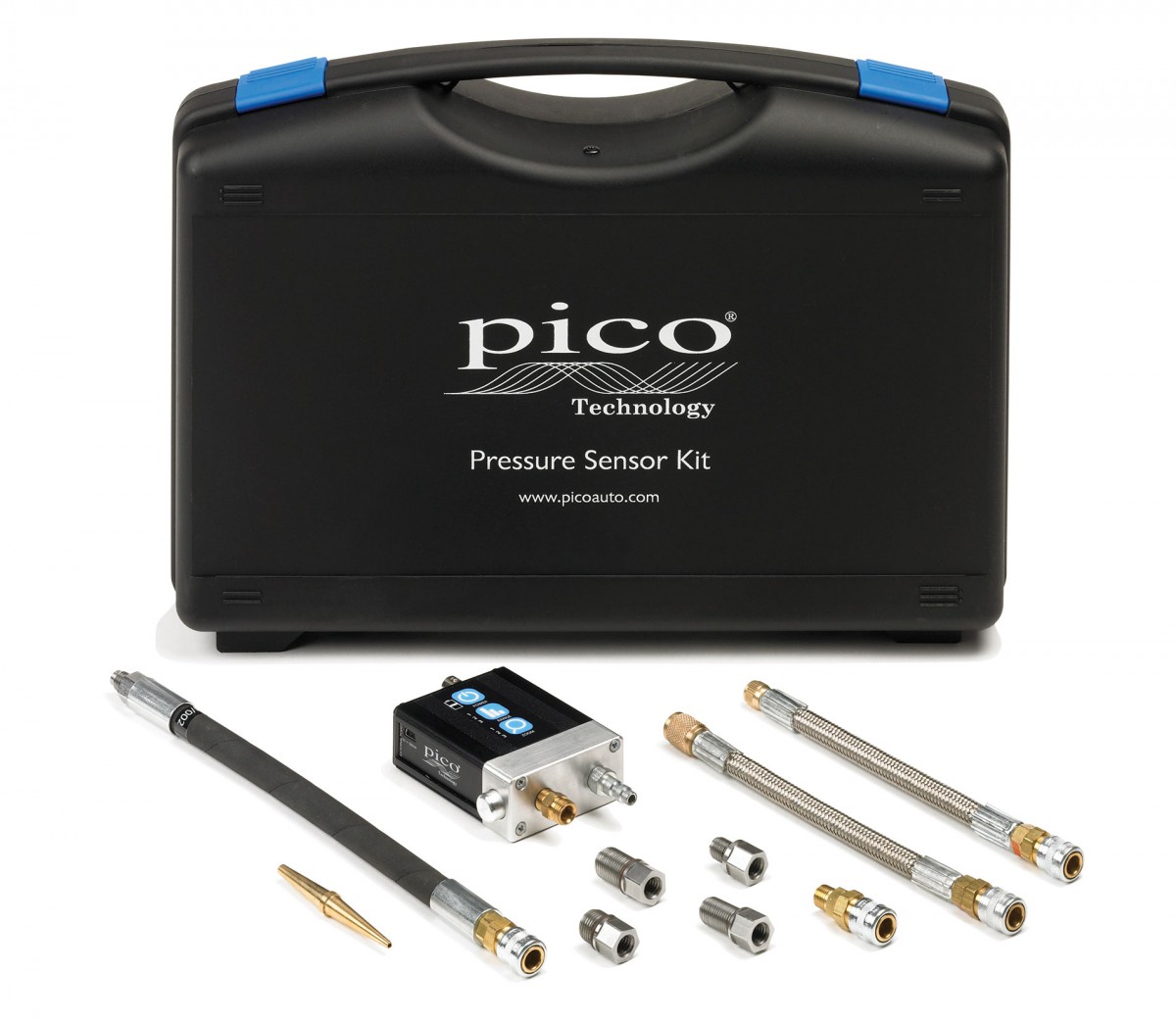 WPS500X Pressure Sensor Kit
Adding the WPS500X Pressure Sensor to your PicoScope opens up a new world of diagnostics by turning pressure readings into waveforms. In-cylinder waveforms show valve and timing issues, mechanical failures, blown gaskets and blocked catalytic converters.
Most pressure sensors can only measure over a limited range (so you need different ones for different tasks). The WPS500X has three ranges in one sensor so it is flexible enough to work right around the vehicle - fuel pressure, transmission pressure, intake vacuum and even pulses from the exhaust.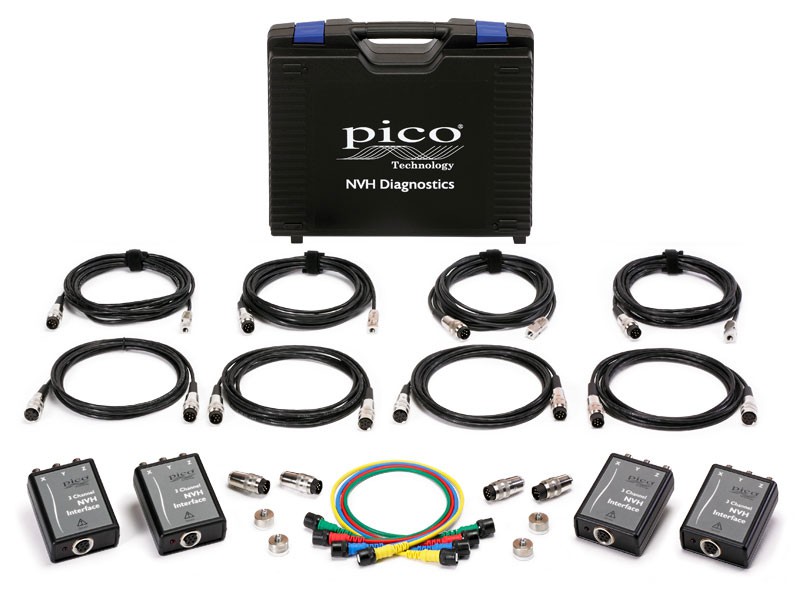 Supplied as a complete kit with ~
Noise Vibration and Harshness (NVH) Diagnostic Kits
Improvements in damping and sound insulation in modern vehicles mean that vibrations and noise that would previously be ignored (by turning up the radio) are now diagnostic headaches. Many hours can be spent, and many parts swapped, in tracking down customer complaints.
The NVH Kits work with your PicoScope to identify the source of the problem quickly. If the customer complaint is noise, use the microphone; if it's a vibration, use the accelerometer. Sophisticated software quickly pinpoints the source of the problem.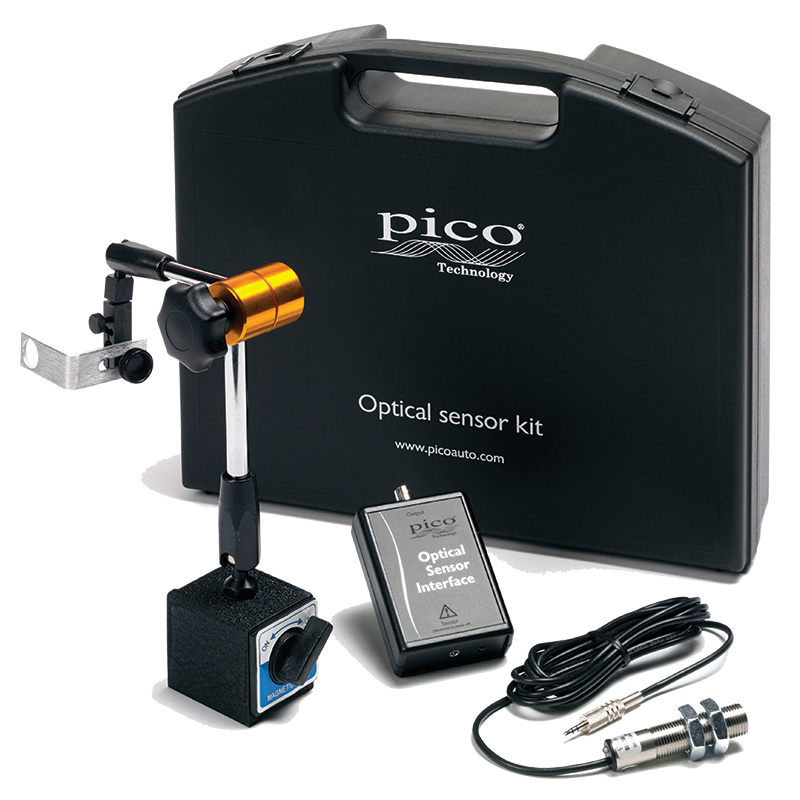 The Kit can be enhanced with accessories, such as the Optical Sensor Kit, to allow on-vehicle driveline balancing.
Getting started - help all the way
Many technicians know that they should be using oscilloscopes but are worried they will be too difficult to use. If you are confident using multimeters and scan tools, you will have no problem learning to use a PicoScope.
The manual guides you step by step through installing the PicoScope and making your first measurement of battery voltage and from there the guided tests take over, showing you how to test the common components on vehicles. Next we offer a huge range of free resources to help you get the most out of your PicoScope including online training, videos and case studies. There is also a great community of users who share knowledge, waveforms and advice as well as helping us by suggesting software improvements.
Many of our customers tell us how owning a PicoScope has helped them understand how a modern vehicle really works and over time has opened new career opportunities as they become respected experts in diagnostics.
Buying a PicoScope is unlike dealing with some other companies who lose interest as soon as they have your money. At Pico we stand behind our products and offer free lifetime technical support by phone and online. Software updates are also free - your PicoScope keeps getting better with no subscriptions or ongoing fees to pay. It is no surprise that PicoScopes are chosen by more vehicle manufacturers and aftermarket customers than any other oscilloscope.