CANedge3 Dual CAN & LIN Data Logger
(SD + RTC + 3G/4G)
PLUG & PLAY: Log data out-the-box. Standalone. Power via CAN connector
PRO SPECS: Extractable 8-32 GB SD. 2xCAN/LIN. CAN FD. Zero data loss. 50 μs RTC
CONFIGURABLE: Filters. Transmit lists. Triggers. Cyclic logging. Silent mode
SECURE 3G/4G: Push data to your own server via 3G/4G. End to End Security.
MANAGE FLEET: Easily update config/FW over the air accross fleet. RTC sync via 3G/4G.
FAST & SECURE: Industrial SD card. Data encryption for GDPR/CCPA. Compression
INTEROPERABLE: Convert MDF4 to e.g. CSV, ASC, TRC. Free open source GUI/API
COMPACT: Only 8 x 5 x 2 cm. 100G. Alu enclosure. 5 LEDs. Configure CH2 5V power out
---
Technical Specifications
General
Safety
CE, FCC, IC Certified
Voltage Tests
Transients ISO 7637-2:2011 by TÜV SÜD
Warranty
1 year
Support
Free, Fast & High Quality
Origin
Denmark
Software
100% Free and Open Source
CAN Bus
Channels
2x CAN, CAN-FD & 2x LIN (Master/Slave)
Protocols
J1939, OBD2, CANopen, NEMA2000, FD, ...
Bit-rate
Auto-detection / Simple / Advanced Customisation
Data Logging
SD Card
8 - 32GB (Extractable Industrial Micro SDHC)
Real-Time Clock
50μs Resolution (Battery Backup)
File Formats
MDF4 (.mf4) Easily Process and Convert
Safety
100% Power Safe
Configuration
Advanced Options (filters, prescalers, compression, error frame logging, data encryption, triggers and more.
GNSS/IMU (optional)
Add 40+ GNSS/IMU Signals (see deep dive)
Power Supply
Input Supply
7V to 32V DC (Via Channel 1 DB9)
Power Consumption
< 1W
Mechanical & Connections
Connector
2x DB9 (Adapter Cables are Available)
Length
75mm
Width
47mm
Height
20mm
Temperature
-25°C to 75°C
LEDs
PWR, CH1, CH2, MEM, WFI, GPS
IP Rating
IP40
Product Description
The plug & play 2xCAN/LIN logger records timestamped CAN data (Classical/CAN FD) to the extractable 8 GB industrial SD card.
The small device connects via 3G/4G using your own sim card, to securely push data to your server. Further, the device can be updated over-the-air. The CANedge3 is ideal for telematics & fleet management - as well as R&D field tests, diagnostics and predictive maintenance.
Software/APIs are free & open source - with no fees or lock-in.
It's easy-to-use: Simply power the device via your CAN connector to start logging raw data. Extract the data and process it using 100% free open source MDF4 software/API tools - or convert it to your favorite log file format (Vector ASC, PEAK TRC, CSV, ...).
New: The CANedge3 is now available with optional GPS/IMU.
Pro specs CAN logger - at half the cost
The CANedge1 combines innovative design, cutting-edge components - and incredibly low costs:
Dual high speed CAN/LIN (incl. CAN FD) channels
Extractable 8-32 GB industrial SD card (months of data)
Binary MDF4 log file format (extensive tool support)
Advanced message filtering & transmit functionality
Start/stop logging triggers based on CAN ID & databytes
Silent mode, bit rate auto-detection, cyclic logging
CAN/LIN error frame logging
Data compression & encryption (e.g. for GDPR, CCPA)
Fast boot time. Safely disconnect during use
Open source software/API - naturally
All software/APIs for the CANedge is 100% free and open source.
Data is stored in the popular MDF4 standard to enable interoperability across CAN tools and custom systems.
Convert: Simple MDF4 converters let you convert data to e.g. CSV, ASC (Vector), TRC (PEAK) - for use in your favorite tools.
Process: The asammdf GUI lets you process your data incl. DBC conversion (J1939, OBD2, ...) and graphical plots (Windows/Linux).
Automate: Easy-to-use Python APIs let you automate processing of large amounts of data (incl. quickstart library on github).
Visualize: Easily visualize data in customizable dashboards
---
Mechanical Dimensions
---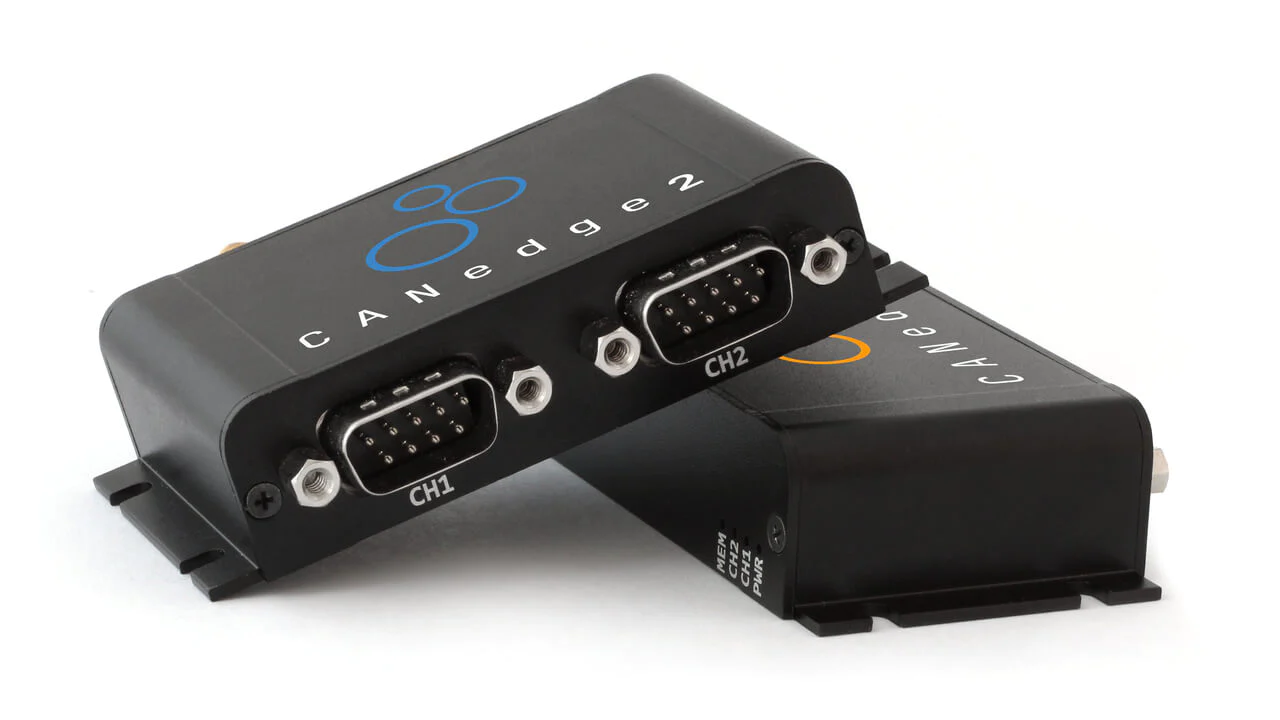 Documents, Manuals & Downloads