Using PicoScope for Automotive Diagnostics
Using PicoScope in your workshop reveals incredible detail. It allows you to analyse the operation of hundreds of different components across all makes and models of vehicles.
Here is an example of the voltage applied to a fuel injector. It shows the on time, the clipping of the back EMF on switch-off and the closure (correct mechanical operation of the pintel - look for the tiny bump after the voltage spike).
There are many diagnostic tools at your disposal, including:
Technical Information
Training
Knowledge and Experience
Serial Diagnostic Tools (OBD)
Multi-meters
Gas-analysers
PicoScope; and many more.
Become a Professional Diagnostic Provider
All of these tools combine to form a powerful capability in your business. However, it is your ability to use them together that will ensure you remain a successful workshop in the future.
Using PicoScope allows you to see, analyse and understand the electrical signals that vehicle components produce. Consequently, you will be able to discover the root cause of a problem.
This in turn, will enhance the reputation of your business as a professional diagnostic provider.
Vehicle Manufacturers prefer PicoScopes
Don't just take our word for it. More than twenty of the world's leading vehicle manufacturers already use PicoScope in their dealerships as their diagnostic tool.
It's Pico Technology's heritage and commitment that makes the PicoScope the scope of choice. It is therefore obvious that PicoScope is not specific to any make or model and can be used everywhere.
Setting out on your Diagnostic Journey
When you first start your diagnostic journey with PicoScope, the idea of connecting to vehicle components and reading their signals may seem a little daunting. Therefore Pico have spent over 20 years breaking down the myths about scope diagnostics. It should be noted that they have helped their customers become some of our industry's leading diagnostic experts.
If you take the time to read through this guide, you will gain a foundation of much wider knowledge and understanding of vehicle systems and analysis. This will lead you to more reliable and professional diagnoses of your customers' vehicles.
What can your PicoScope do?
Vehicle complexity is increasing. Thus, more and more complex diagnostic problems face the workshop. A tool that gets to the heart of the problem has never been more valuable. Only PicoScope combines high levels of help to first-time users with lightning-fast capture rates and high resolution to cope with the most advanced modern-day vehicle signals.
Pico Technology is unique within the Automotive Industry:
In the way they specialize in the manufacture of PC-based scopes for automotive use; and
How they work with an ever-increasing number of the world's leading vehicle manufacturers for dealer-level oscilloscope diagnostics.
This experience ensures that PicoScope is ahead of the competition and is constantly advancing to tackle the fast-paced developments within the Automotive Industry.
Over the following pages, you will find a summary of PicoScope and what it can do. We hope this will help show you that, by investing in PicoScope, your business can become proficient in vehicle diagnostics and give you the competitive edge.
Remember that the PicoScope can be used on a wide range of vehicles and equipment, including:
Cars, trucks, bikes, agricultural vehicles, boats, aeroplanes, earth-moving, petrol, diesel, EV and more.
When used with our range of accessories, PicoScope can also detect signals relating to vacuum, fuel and hydraulic pressures, noise, vibration and harshness. It is safe to use, with no risk to the vehicles or the equipment, thanks to our non-intrusive testing methods.
PicoScope Diagnostic Software
Pico Technology's advanced diagnostics software is free to download, has free upgrades for life and is always on hand to help you, no matter what your experience of capturing component waveforms is. At this point, it is worth reminding ourselves what a waveform is. Simply put, it shows how voltage levels change over a period of time:
The current production version is PicoScope 6 but it will soon be replaced with a complete re-write, currently in beta PicoScope 7.
PicoDiagnostics
Arguably PicoScope's best-kept secret is our PicoDiagnostics software. This ever-evolving software is downloaded for free alongside our PicoScope Automotive software. It not only gives you an accurate, powerful battery, starter and alternator tester but also includes tests for relative compression and cylinder balance. Note that the performance of these tests is limited by some modern vehicles' smart charging systems.
As your journey into more advanced vehicle diagnostics continues, the purchase of our NVH Diagnostics Kit opens up the possibility of detecting and analyzing issues with noise, vibration, and harshness.
A single installation file for both PicoScope 6 Automotive and PicoDiagnostics is available to download for free from our website at www.picoauto.com. There are no charges or annual fees for updates. Our software is constantly evolving, which increases its value long after the initial purchase. Enjoy Pico's free software updates and lifetime support for your PicoScope. We are always happy to help our customers, regardless of the age of the product.
Scope diagnostics is only for experts - right?
Wrong. This perception could not be further from the truth. While PicoScope may be used by some of our industry's foremost experts (thanks to its outstanding performance and resolution), it is surprisingly intuitive and easy-to-use for a novice.
The Multimeter
Let's start at the beginning.
You are probably already familiar with using a multimeter as a basic check, to make sure that a component is receiving a power and signal voltage. You will also know that the multimeter is relatively easy to connect to the component. A scope benefits from a better connection, but the process is much the same as connecting a multimeter.
For our scope connection we usually use back-pinning probes or breakout leads. They give you a more secure connection, and are just as easy to use. Let us look at an example of connecting to a camshaft sensor. Locate the sensor you wish to test by using a combination of experience and technical data.
For a camshaft sensor, we recommend that you use a back-pinning probe. When this connection is made it is simple to attach your PicoScope.
The simplicity of the connection is where the similarity with a multimeter stops. A PicoScope can let you see high levels of detail in your test results rather than a single voltage. More importantly, the waveform is much more valuable to you as a technician than a simple multimeter reading.
For example, a multimeter measurement of 7.46 V is displayed. However, with the same connection, PicoScope displays a clear and concise waveform, showing a 12V camshaft sensor switching off and on with a regular pattern.
Granted, this example is one of the easiest components to both connect to and analyse, but with PicoScope, there really are an unlimited number of tests you can undertake. We even include an ever-increasing selection of Guided Tests in the PicoScope 6 Automotive software, to help you test the most common components.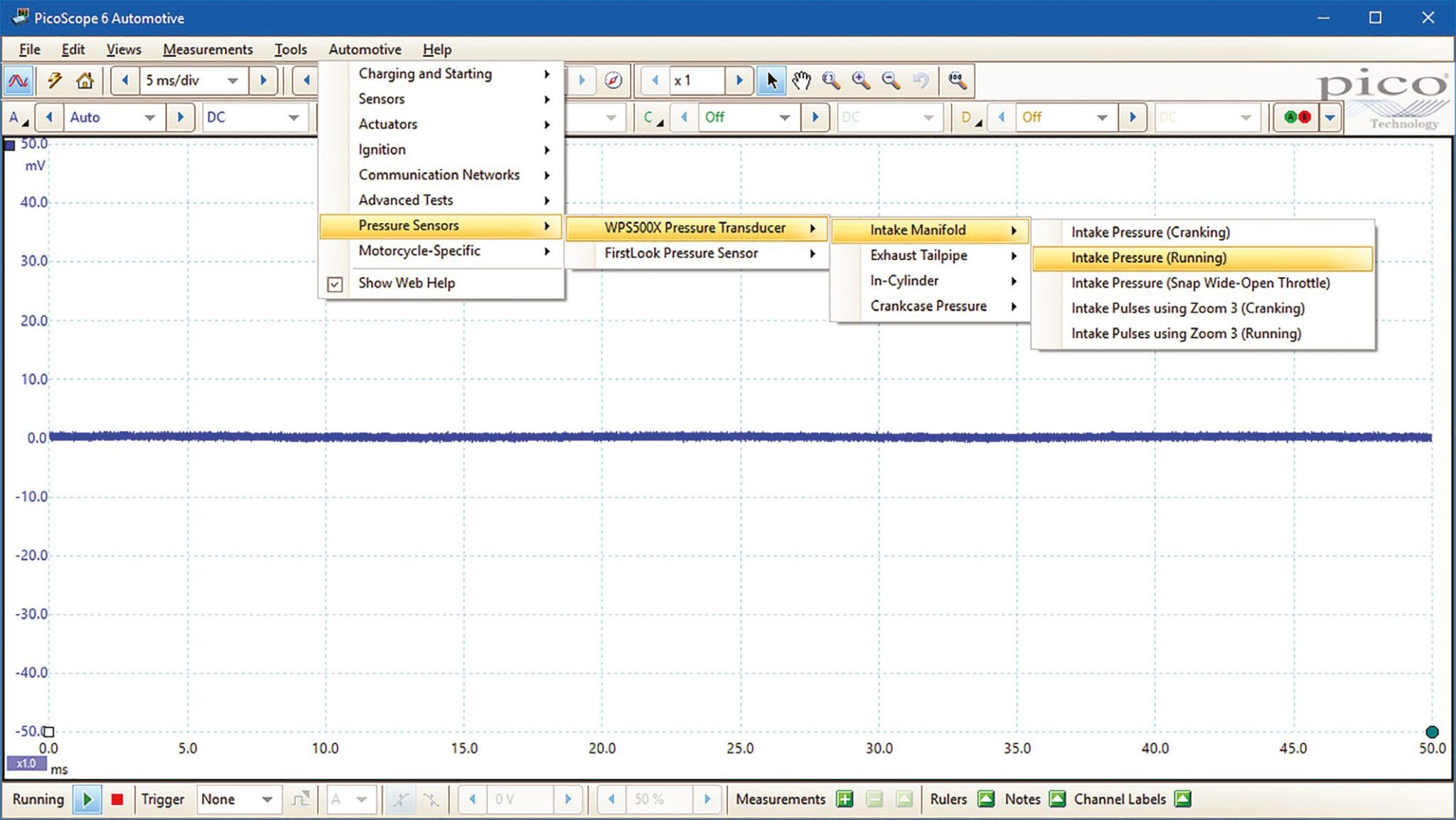 Guided Tests
When you select a Guided Test in the Automotive Menu, a test sheet is opened containing among other things:
The purpose of the test
How we recommend you connect to the component
The recommended settings and accessories
An example waveform
Notes about the waveform to help with your analysis
How to reach a diagnosis based on the analysis
Additional information – how the component works and its relationship to other components
In addition, when you select the Guided Test, the PicoScope software also opens a data file which sets up the PicoScope to run the given test. This means that in your first days of using PicoScope you don't have to worry about setting up the software manually – you are simply ready to start running your test.
Our Top 10 Tests with PicoScope 6
If you are new to PicoScope, you may be wondering exactly how you can use it and what benefits it will have for your workshop. With this question in mind, we have created what we consider to be the Top Ten uses for PicoScope, with help and feedback from our users.
We have included a brief overview of each test, a video animation to illustrate how the test is performed, the benefits the test offers you, and most importantly, how to:
Connect

Connect to the vehicle

Run

Capture the waveform

Read

Analyse the captured waveform
Remember: These tests are supported with guided instructions, technical information and a settings file built into the PicoScope Automotive software. Today, we have more than 150 Guided Tests, but they are by no means the limit of what PicoScope can be used to test for.
Please click Next for the first test - Relative Compression whilst Cranking.