Vehicle Battery, Starter Motor, Alternator and Regulator Test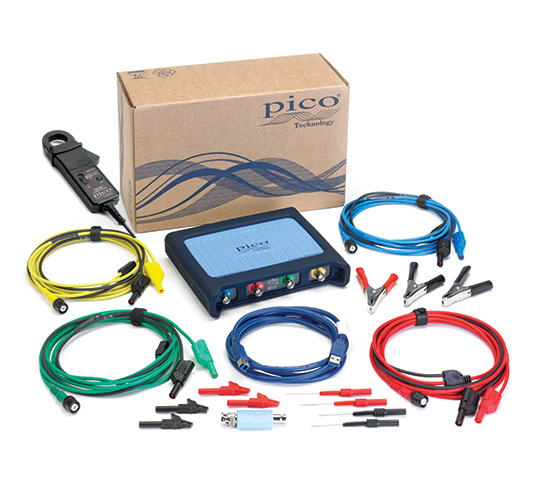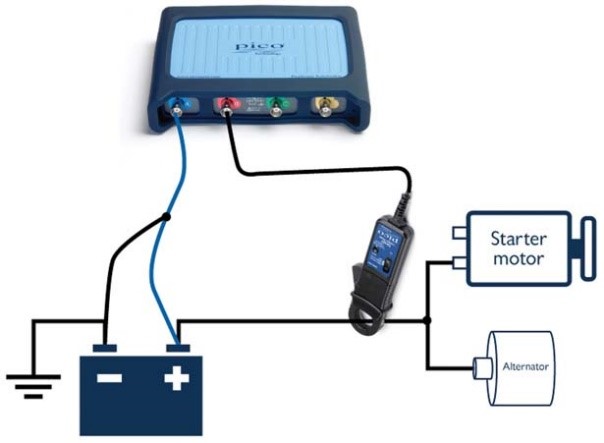 Garage Lube imports and distributes PicoScope Automotive Diagnostic Equipment. One of the many tests that PicoScope can do, just by starting the vehicle, is a comprehensive Vehicle Battery, Starter and Alternator analysis. Two inexpensive kits, the 2-Channel and 4-Channel Diagnostic Kits which include an oscilloscope, test leads, probes and a 2000A current clamp give you this capability.
The PicoScope is a 2 or 4-channel oscilloscope and to conduct the test, one would connect:
Channel A to the battery;
Channel B to a 2000A current clamp around the lead between the battery and starter;

If a 4-channel PicoScope is used, the voltage drop across the starter motor cables can also be measured (optional):

Connect channel C to the positive lead on the starter motor; and
Channel D to the negative (or mounting bolts) of the starter.
Remember to ground Channels A, C and D to battery negative - The input grounds on the 4425 and 4225 oscilloscopes are not common (connected together internally).
Batteries should be tested under load. Loads that can dissipate large amounts of power such as a carbon pile are often used to test the battery. PicoScope allows you to use the starter motor as a load, which also draws large currents. Using it as a load accurately reflects the real-world conditions that the battery operates under.
The test is ready, start the engine and the Pico-Diagnostic software analyses the battery, starter motor, alternator and regulator. A report is generated that can be printed for your customer with: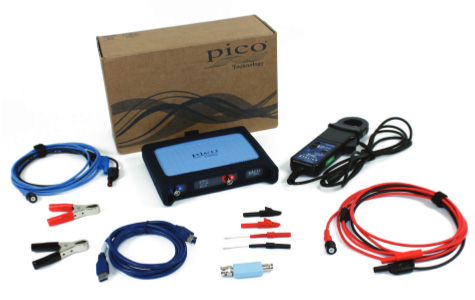 Battery Information
Initial Battery Voltage (V)
State of Charge (%)
Lowest Voltage and Voltage Drop (V)

When the starter motor starts rotation at the highest current peak

Maximum Current (up to 2000A, suitable for Petrol and Diesel Engines)
When rotation starts – this (combined with the lowest voltage above) is a genuine, full-load test of the battery
Internal Resistance of the battery (milliohms)
Capacity of the battery (%)
Condition of the battery (Good / Replace)
Starter Motor Information
Starter Motor Resistance (milliohms)
Charging Circuit Information
Status – Charging Rate (%)
Voltage (V)
Voltage across the battery when charging

If too low, charging will be inadequate and
If too high, the battery can be damaged through gassing

Ripple
Voltage variations during charging – if too high, this could indicate a blown diode in the alternator
Current

The current being 'pumped' into the battery from the alternator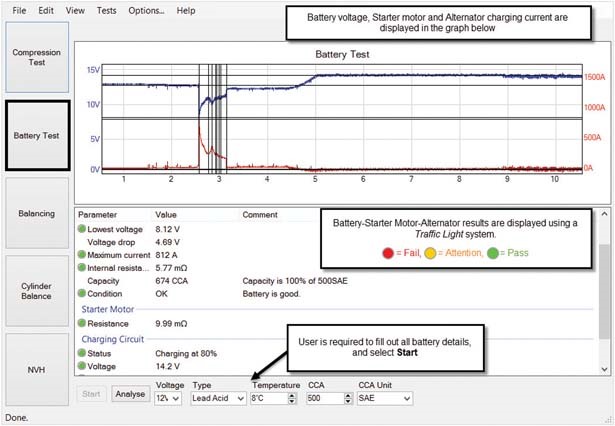 This quick and easy test provides a comprehensive and objective pair of reports that can be printed and presented to your customer showing the problem (before) and the solution (after).