Pressure Transducer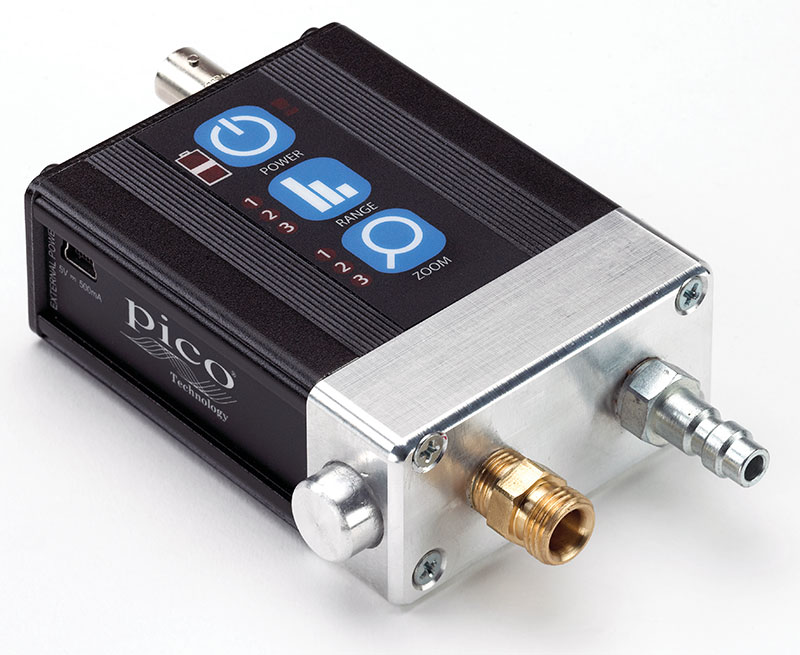 A PicoScope can be much more than an electrical diagnostic tool. Add the high speed WPS500X Pressure Transducer that measures pressures up to 34bar (500psi) and reacts in one ten-thousandth of a second. It can also be used to measure vacuum and is compatible with air, coolant, petrol, diesel and lubricant oil.
With the unparalleled speed, resolution and accuracy of the WPS500X Automotive Pressure Transducer you can perform quick and accurate analysis of many automotive systems.
Download both the WPS500X Brochure and the User's Guide.
You can also download the PicoScope Brochure.
Compression Testing Example
A compression gauge measures peak pressure. All low pressure information – that can show timing errors and other subtle faults – is hidden. For example, see the ripples between BDC Expansion and TDC. That is caused by turbulence in the air rushing past the exhaust valve.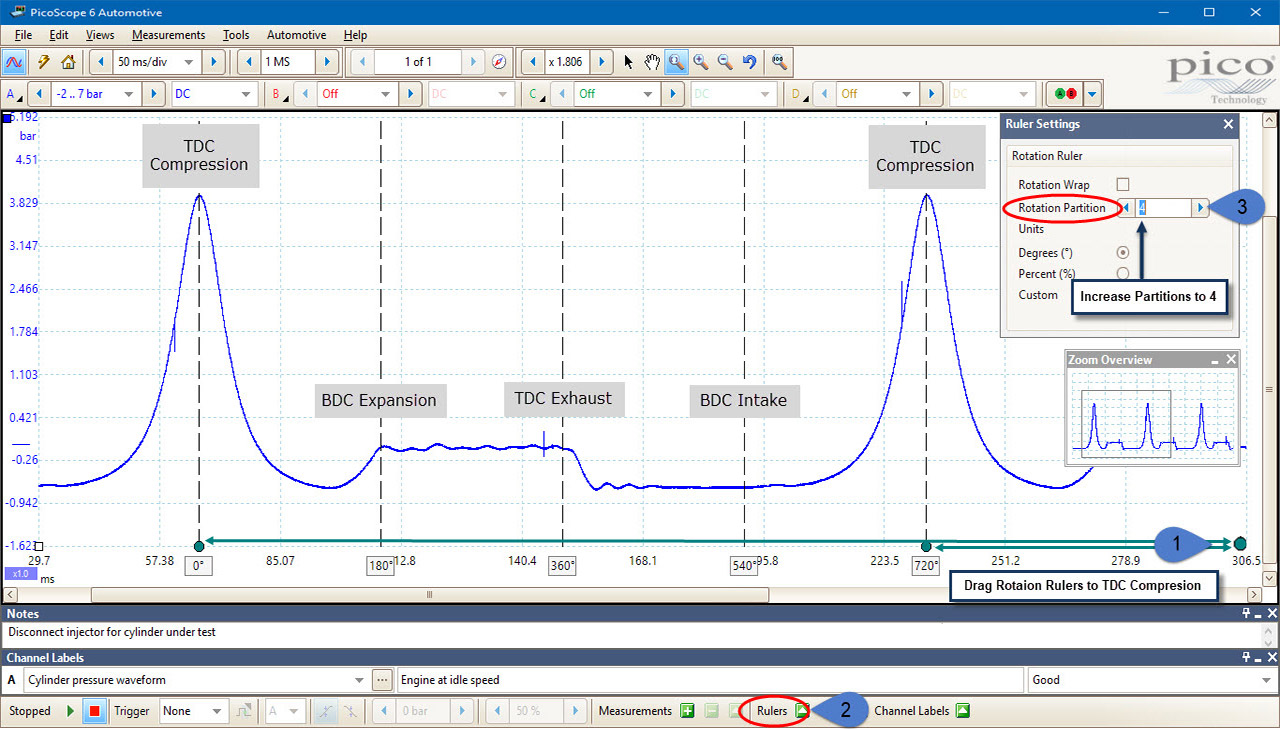 How it works
Our WPS500X kits have hoses and adaptors that allow you to connect to fuel and vacuum systems. The kits include spark plug adapters and glow plug adapters are also available for diesel compression testing. There are three ranges:
1: -1 to 34.47 bar (e.g. Compression Tests)
2: -1 to 3.45 bar (Vacuum and Fuel System Tests)
3: -0.34 to 0.34 bar (Exhaust gas pulsations)
Please visit the WPS500X page for guided tests, videos and lots more information. Also see our page on WPX500X Kits. Here is a list of some example tests:
Engine Tests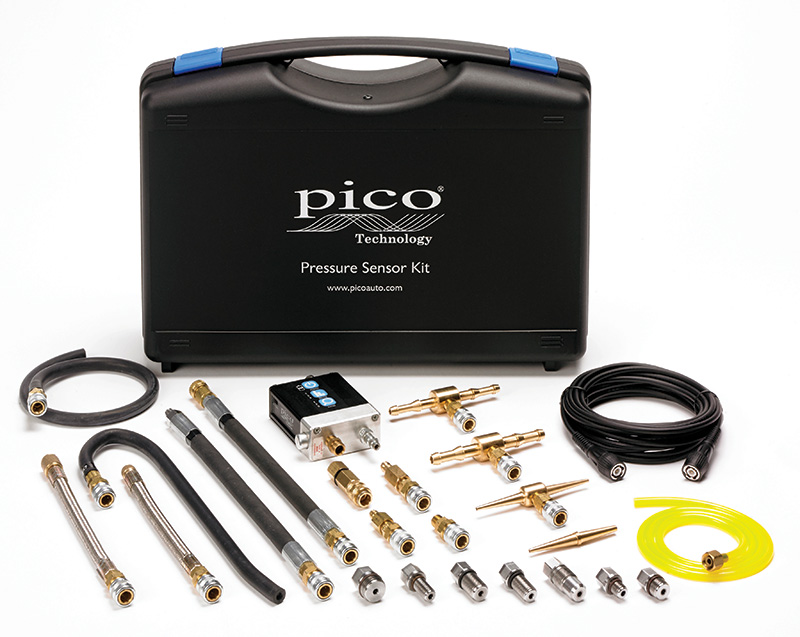 WPS500X Single Maxi Kit with Carry Case
Compression testing (Cranking)
Cylinder compression testing (Idle)
Compression testing (WOT snap test)
Intake manifold pressure petrol and diesel
Exhaust gas pressure pulsations
Exhaust back pressure evaluations
Crankcase pressure pulsations
PCV valve operation

When you have high crankcase pressures

Camshaft timing evaluation

Belt, Chain and Gear-driven

Cylinder head valve sealing integrity
Engine oil pressure testing
Cooling system pressure evaluation-Head gasket failure
Radiator cap evaluation

With over pressurized cooling systems

Vacuum pump efficiency
Fuel Tests
Delivery pressure, Petrol
Pressure regulator test, Petrol
Delivery residual pressure test, Petrol
Delivery/priming pump efficiency, petrol and diesel
Positive priming pressure, Diesel
Negative priming pressure, Diesel
Delivery residual pressure, Diesel
Injector back leakage test, Diesel
Injector contribution evaluation test, Petrol
"Evaporative loss" control vacuum circuits and solenoids
Turbo Charger Tests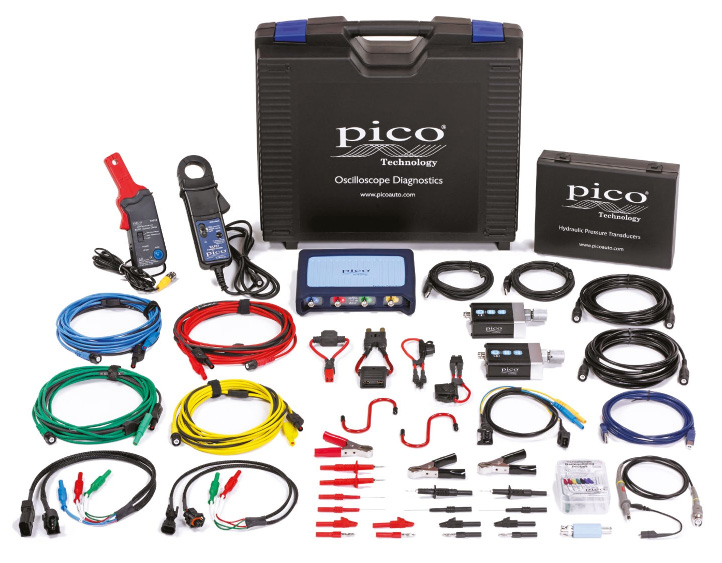 4425 4-Channel Engine & Hydraulics Kit
Boost pressure evaluation
Boost control vacuum circuits and solenoids
Waste gate operation
Engine Management Tests
Variable induction system

Actuator/control integrity test

Idle control damper integrity test
Cruise control actuators

Vacuum circuits and solenoids
Chassis Tests
Air Suspension
pump efficiency
residual pressure testing
control

Pneumatic circuits & solenoids

Brake servo evaluation and integrity test
Transmission Tests
Auto transmission:
line pressure testing
governor pressure testing
Mechanical Tests
Cylinder head gaskets
Broken or stuck rocker valves
Blocked exhaust / Diesel Particulate Filter (DPF)
WPS600C Hydraulic Transducer - Ideal for Earth-Moving and Mining Applications
The WPS600C Hydraulic Transducer is also available and can measure up to 600bar. A new kit – the Engine and Hydraulic Kit – combines our Diesel PicoScope Kit with two WPS600C hydraulic pressure sensors. Exactly what you need for earth moving and mining applications!